CSC News
May 17, 2018
Nearly 300 CSC Graduates Honored During Spring Diploma Ceremony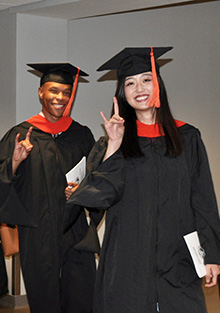 On May 10th, NC State's Reynolds Coliseum was filled with friends and family celebrating a record-breaking number of computer science graduates. This year's graduating class of almost 300 students class included nine Ph.D., 169 M.S., and 119 B.S. degree recipients. The top employers of this semester's graduates are Cisco, SAS, IBM, VMware, NetApp, Red Hat, Amazon and Fidelity Investments.
The undergraduate class included nine Valedictorians with a perfect 4.0 GPA: Zachary Thomas Brownlow, Aaron Moran Cheshire, Samuel Joseph Fedeler, James Chandler Gonzales, Nicole L. Hleback, Jacob Benjamin Inkrote, Jean-Claude Shore, Matthew Christopher Simpson, and Andrew Zhang; one Park Scholar: James Chandler Gonzales; seven University Honors Program students: Kaveen Madushanka Herath Bandara, Nicole L. Hlebak, Jacob Benjamin Inkrote, Samuel James Rappl, Joshua Marsh Rees-Jones, Mitchell Westwick Rees-Jones, and Jean-Claude Shore; fourteen Computer Science Honors Program participants: Akhil Chandrashekhar Acharya, Jordan Alexander Beichler, Joshua Eli Good, Kaveen Madushanka Herath Bandara, Jacob Benjamin Inkrote, Felix Leo Kim, Sriya Madapusi Vasudevan, Seyedsamim Mirhosseini Ghamsari, Thomas Paul Petrovich, Samuel James Rappl, Mitchell Westwick Rees-Jones, Jean-Claude Shore, Brent Younce, and Renata Ann Zeitler; and numerous members of a variety of scholastic honor societies.
This spring's graduating class included many remarkable students including:
Angela Felion just graduated with her second BS degree in computer science. Her first degree is in music. She interned with iCiDigital and begins full-time employment there after graduation.
Nicholas Gardocki graduated with a minor in Military Science. He completed the Army Reserve Officer Training Core Program with the Wolfpack Battalion. He will be commissioned as a second lieutenant in the United States Army and serve as a cyber security officer.
Nicole Hlebak graduated with a minor in Spanish, is a Goodnight Scholar, and completed the University Honors Program. She will be employed as a software developer at Sageworks. In addition to computer science, Nicole learned to play the trumpet and make stained glass while at NC State.
Yiing-Jye Huang graduated with minors in both Biological Sciences and Music. In the fall he will be enrolled in a post-baccalaureate program in preparation for dental school.
Sean Kilgannon, who is originally from New York, but has been a member of the WolfPack Club since he was six years old, and the Student Alumni Club since 2014.
Christina Mara is active in broadening participation in computing and founded the Cary High School Chapter of Girls Who Code. She co-oped for Oracle and interned at ImageSoft and Sageworks. After graduation she will be employed full-time with Sageworks.
Marvin Newlin is also graduating with a degree in Mathematics. He will be commissioned as a second lieutenant in the United States Air Force and will work as a CyberSpace Operations Officer. He was selected for an Advanced Academic Degree and will be attending the Air Force Institute of Technology at Wright-Patterson Air Force Base in Ohio. For his first duty assignment, Marvin will pursue a Master's Degree in CyberSpace Operations.
Mitch Rees-Jones, a four-year member of the NC State Cross Country and Track Team, will spend the summer in Kenya where he will train to qualify for the Olympic Trials in the marathon event. In September, he will move to Seattle to work as a software engineer at Facebook.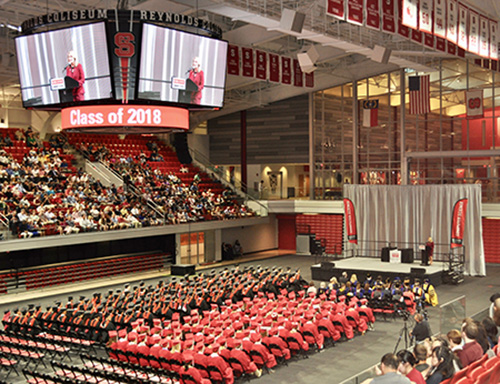 We were honored to have Kimberly Calhoun serve as the keynote speaker. Calhoun is the COO of MoneyMasters TV and Network, CEO and Founder of CAP Science Labs, and inventor of Guardianator. She is also a member of the NC State Computer Science Department's Strategic Advisory Board (SAB).
In her remarks, Calhoun encouraged the graduates to "plan, prepare and execute with excellence" everything they do in life. She went on to say that "when we solve the world's problems, sometimes we create other problems, but don't let that stop you from innovating. Learn from that, grow from it, and continue to innovate…" Calhoun concluded her remarks by quoting the former NC State basketball coach Jimmy Valvano's famous speech telling the graduates: "Don't give up. Don't ever give up!"
Our special thanks go to Bank of America, the Computer Science Department ePartners Program, its participating corporate sponsors, and the NC State Engineering Foundation for their generous sponsorship of this event.
Congratulations CSC Class of 2018!
~coates~
Return To News Homepage