CSC News
April 27, 2018
Coates Recognized for Support of WMEP Faculty/Staff Outreach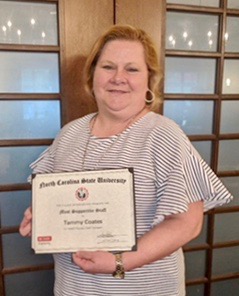 Congratulations to Tammy Coates, assistant director of external relations in the NC State Computer Science Department, who was recently recognized as the College of Engineering's Most Supportive Staff Member for Women and Minority Engineering Programs (WMEP) Faculty/Staff Outreach. The award was presented during the 2018 Annual Engineering Awards Reception on April 24.
The Most Supportive Staff Member Award is presented to the staff who supports WMEP students in a way that makes them feel welcomed, valued and appreciated. This person helps students navigate day to day challenges throughout their collegiate experience.
Per Coates' nomination, "Tammy works tirelessly and is a behind the scenes force for students, faculty and staff members. She has given an unwavering hand in planning, supporting, and making sure that everything is in place for meetings, summer camps, workshops, and other events. She is that "go to" person when you want to get things done because when you make a request of her, she will make sure that you have what you need for your program to be a success."
For more information on the College of Engineering's Women and Minority Engineering Programs, click here.
~###~
Return To News Homepage