CSC News
May 03, 2018
Chi, Haugh Receive Alcoa Foundation Engineering Research Awards
Darsee Heath | College of Engineering News
The 2018 Alcoa Foundation Engineering Research Awards were presented to Dr. Min Chi, assistant professor in the Department of Computer Science, and Dr. Jason Haugh, professor in the Department of Chemical and Biomolecular Engineering, at the spring faculty meeting of the College of Engineering at North Carolina State University.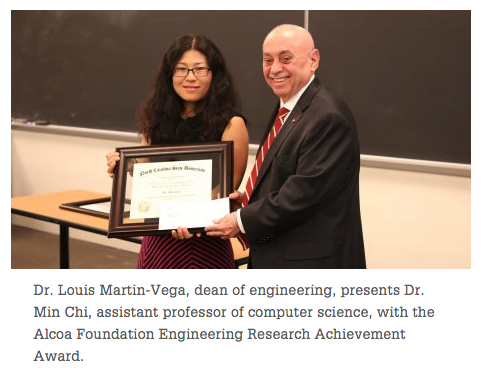 Dr. Min Chi
Chi was awarded the Alcoa Foundation Engineering Research Achievement Award, which recognizes young faculty members who have accomplished outstanding research achievements during the preceding three years. Haugh received the Alcoa Foundation Distinguished Engineering Research Award, made to a senior faculty member for research achievements over a period of at least five years at NC State.
Chi's research has helped pioneer the use of techniques from Reinforcement Learning to improving the decision making of Intelligent Tutoring systems. Her research addresses both how we should induce effective pedagogical strategies and how to empirically evaluate the resulting policies to improve educational outcomes. In the last three years, she has greatly expanded this line of research by exploring more advanced feature selection methods and learning algorithms including Deep, Hierarchical, and Constrained Action-based Reinforcement Learning. In the past three years, she has had 19 publications in refereed conference proceedings, several of which earned additional recognition: an Outstanding Paper Award at the International Conference of User-Modeling and Adaptive Personalization in 2016, a Best Paper Award at Data and Applications Security and Privacy XXIX (DBSec2015) in 2015, and two Best Paper Award Finalist designations at the International Conference on Educational Data Mining (EDM) in 2015 and 2017. She also published two journal articles. She has received more than $5.8 million in support from five National Science Foundation grants on which she was PI or co-PI since January of 2015, including a prestigious CAREER award.
Dr. Jason Haugh
During his time at NC State, Haugh has quickly risen to the rank of professor and is well known as a talented educator and leader. He has broken new ground by bringing quantitative fluorescence microscopy and computational image analysis as a central approach in his lab. His contributions do not stop there. He has made a career of developing quantitative tools to study cell behavior in the motility of cells. His combination of molecular imaging and mathematical modeling has been able to tease out fundamental mechanisms that guide cell motion and directional sensing in a wide range of important cell types. From 2013-17, he and his research group produced a total of 21 publications. He has maintained an excellent record of external funding, totaling $7.6 million, with a majority supplied by the National Institutes of Health and the National Science Foundation. Over the last five years, he has accumulated $4.1 million in active grants.
~heath~
Return To News Homepage