CSC News
April 27, 2018
King Receives Gertrude Cox Award for Teaching with Technology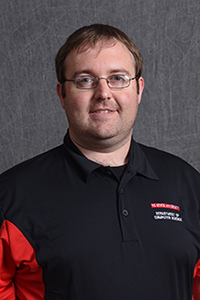 Congratulations to Dr. Jason King, teaching assistant professor in the NC State Department of Computer Science, on recently being presented with the Gertrude Cox Award for Innovative Excellence in Teaching and Learning with Technology. The award was presented to two individual faculty, and a team of faculty, staff and postdoctoral scholars.
The award, first given in 2002, honors the creative pedagogy of NC State's faculty and technical staff and their work in integrating new technologies into effective teaching strategies. Gertrude Cox, "The First Lady of Statistics" and the award's namesake, came to NC State in 1940 to establish the university's distinguished Department of Statistics.

King is a three-time graduate of the NC State Department of Computer Science (BS CSC 2009, MS CSC 2011, and PhD CSC 2016). His research focuses on computer science education and software security. His current research explores tools and educational practices for helping novice developers connect data structure and algorithm theory with software engineering practice, as well as tools and practices for proactively building security into software from the beginning of the development lifecycle.
-coates-
Return To News Homepage