CSC News
March 30, 2018
Tseng Wins Facebook Hardware & Software Systems Research Award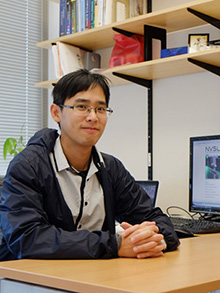 Dr. Hung-Wei Tseng, assistant professor of computer science at NC State University, has recently been awarded a Facebook Hardware & Software Systems Research Award. The award, valued at $50,000, supports his proposal titled "A Drop-in Upgradable Near-Data Processing Architecture for Machine Learning Applications in Heterogeneous Computers."
According to an announcement made by Facebook, "Continued research into hardware and systems is essential to Facebook as we develop algorithms to maximize impact and every day experiences. By sponsoring research, we extend our knowledge and share findings. We are especially interested in collaborating and sponsoring research at the intersection of computer systems and machine learning..."
A brief introduction of Tseng's proposal, titled "A Drop-in Upgradable Near-Data Processing Architecture for Machine Learning Applications in Heterogeneous Computers," follows:
"As machine learning frameworks that rely on huge volume of input data become critical workloads in data centers, we have seen rapid adoption of heterogeneous architectures (e.g. GPUs, FPGAs or hardware accelerators) to fulfill the demand of high-throughput computing. However, the combination of big data applications and heterogeneous computers also intensifies the overhead of moving data between the data source and computing units as well as the overhead of moving data among heterogeneous computing units. This intensified bottleneck can bury the potential of system components as computing units cannot make progress until sufficient amount data arrived.
"This project will present a system architecture that makes use of near-data processing to fundamentally minimize the overhead of moving data, especially for machine learning applications. By performing some computation near data sources (e.g. storage devices), the system only moves data items that are useful to computation or ships data in formats that make compute kernels more efficient. The computing resource receiving the refined input can work on smaller datasets or easier to process data formats instead of the raw, larger datasets."
Only eight out of 171 proposals were accepted. A list of the other recipients of the 2018 Facebook Hardware & Software Systems Research Awards can be found here.
For more information on Dr. Tseng, click here.
~coates~
Return To News Homepage