CSC News
March 30, 2018
Senior Design Center's Posters & Pies Event Set for April 27th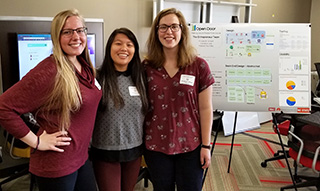 Please join us for the NC State Department of Computer Science Senior Design Center "Posters & Pies" event on Friday, April 27th, from 10:40 a.m.-1:00 p.m. Each student team will give a brief presentation of their Senior Design project in the James B. Hunt Jr. Library Auditorium. After the presentations, pizza and dessert pies will be served, and you can enjoy project demonstrations and poster displays in the Hunt Library IEI Duke Energy Hall.
The event is sponsored by Dell EMC, KPIT, LexisNexis, and Schwab, as well as the Computer Science ePartners Program and the NC State Engineering Foundation.
For directions to the Hunt Library and parking information, please go to: http://www.lib.ncsu.edu/parking
This semester, the sponsors and projects are as follows:
CapitalOne 1:

Portfolio Assistant

CaptialOne 2:

Eureka

Duke Energy:

Team Resource Manager

Entrepreneurs:

LecturePulse

IBM 1:

Pickaxe - A Data Mining Tool

IBM 2:

RPL Doc Gen & Explorer

Ipreo:

Data Viz Insight Engine

LabCorp:

Handwritten OCR API

Schwab:

Synthetic Data Generation

Siemens Healthineers:

Predicting Part Failure

Avanade:

MoodRing - A Facial & Emotion Monitor

Cisco 1:

Automated Cryptographic Validation Protocol for Java

Cisco 2:

X.509 Certificate Generation & Revocation Status Checking

EcoPRT:

Vehicle Network Solution for EcoPRT

Fidelity Investments:

Retirement Fund Plan Scorecard

NetApp:

Logjam

NC Collaborative:

Helping Hands Training Portal

BB&T:

BB&T Security Team

Developer Liberation Front:

PDF Reviewer Tool

Merck:

Derived Personal Identity Verification (PIV) Authentication

SAS:

Third Party Visualizations

Bandwidth:

Call Me Maybe

BCBS of NC:

Insurance Simulator

Bronto:

Bot Spotter

Dell EMC:

Server Utilization & Workload Characterization

Headbands of Hope:

Virtual Headband Closet

iCiDIGITAL:

Automated Engagement Accelerator

LAS:

TUNINGWOLF

Milsoft:

Texting Solutions for IVR/OMS Software

Strategic Motion Video:

Smart Q & A

Voyager:

Voyager Gamification App
If you plan to attend, please register online at https://goo.gl/forms/wZxJdjaI3v7KqnHU2 by Tuesday, April 24th, so that we may properly plan for refreshments.
Please come join us! The media is welcome to this event.
Senior Design Center contacts:
Margaret R. Heil, Director, (919) 515-6020, heil@ncsu.edu
Dr. Sarah Heckman, Technical Advisor, sarah_heckman@ncsu.edu
Dr. Lina Battestilli, Technical Advisor, lbattestilli@ncsu.edu
Dr. Jason King, Technical Advisor, jtking@ncsu.edu
Dr. David Sturgill, Technical Advisor, dbsturgi@ncsu.edu
Mr. Michael DeHaan, Technical Consultant, mpdehaa2@ncsu.edu
Mr. Nick Freeman, Technology Specialist, ndfreema@ncsu.edu
Mr. Ignacio Domínguez, TA/Technical Advisor, ixdoming@ncsu.edu
Ms. Bethany Janos, TA, bpjanos@ncsu.edu
Mr. Brian Clee, TA, bpclee@ncsu.edu

Media & Corporate Partnership contact:
Ken Tate, (919) 513-4292, kmtate2@ncsu.edu
~coates~
Return To News Homepage