CSC News
January 10, 2018
NC State's Online Programs Move Up in Rankings – Computer Science Reaches Number 4
David Hunt | NC State University News | 919.515.5963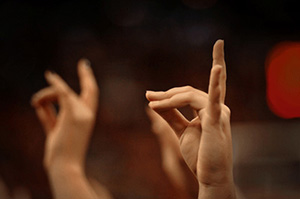 NC State gained ground in the latest ranking of online degree programs from U.S. News & World Report, underscoring the university's rising reputation for academic excellence. The rankings are based on a combination of factors, including student engagement, admissions selectivity, peer reputation, faculty credentials and student services and technology.
The biggest mover for NC State was the online degree completion program, Leadership in the Public Sector, which jumped from 103rd place last year to 71st on this year's list.
Deanna Dannels, associate dean of academic affairs in the College of Humanities and Social Sciences, says the undergraduate program creates an academic community where online students get to know one another, their advisers and their faculty.
"Students become part of the same academic community as any other major in our college and take courses that are equal in academic quality and rigor as our more traditional college courses," she says.
The program, which appeals to many military and nontraditional students, is directed by Amanda Edwards in the School of Public and International Affairs.
Big Jump for College of Education
NC State's online graduate degree programs in education also made a significant gain on the U.S. News list, moving up from 29th last year to 15th this year.
"This news is a reflection of the caliber of our graduate students, many educators working in K-12 classrooms, and the commitment of our faculty and staff to meet their needs," says Mary Ann Danowitz, dean of the College of Education. "We incorporate research into our degree programs, and we are intentional to deliver innovative, cutting-edge and personalized approaches to learning that equip educators with best practices so they can enhance their impact on their students. Our graduate programs also reach educators where they are, often through a blended approach."
Jenkins Rises Again
The Jenkins MBA program has been on a rankings rocket in recent years and, not surprisingly, its online degree moved up again on the U.S. News list, gaining four spots to reach 14th place this year.
"The NC State online MBA program is designed to meet the needs of working professionals who are looking to get ahead in business and in life. The new ranking is entirely consistent with what I hear from the students — a great student experience, the flexibility required to make an MBA program manageable, and a tremendous value," says Steve Allen, associate dean for graduate programs and research in the Poole College of Management.
Computer Science Moves Up
NC State's online graduate program in computer science moved up two spots to No. 4 on this year's list of the top computer information technology programs, making it one of the highest ranked programs at the university.
George Rouskas, director of graduate programs in the department and a professor of computer science, says the online degree program appeals to nontraditional students and mid-career adults seeking new skills.
"Our online courses are identical to our on-campus courses," he says. "We try to make it possible for nontraditional students to take courses but we don't water down the quality of the courses or our admissions criteria. The students appreciate that."
Exceptional Experience
Linda Krute, director of distance engineering education, says NC State was a pioneer in the development and delivery of distance education courses, beginning in the late 1970s. That history continues to pay dividends, she notes, with NC State's online graduate engineering program ranked ninth in the nation for the second year.
"We now offer 16 online degree programs that allow students to complete their degrees from anywhere in the world," she says. "Because of the length of time we've been in the distance education business, our faculty and departments are committed to delivering an exceptional experience for our online students."
Douglas Reeves, associate dean of graduate and international programs in the College of Engineering, says distance education is becoming increasingly important in higher education and many of the nation's top institutions are making a substantial effort to develop their reputations for online degrees.
"Certainly one of the qualities we take real pride in is that our distance education courses are extensions of our on-campus courses. They are taught by the same faculty, at the same time, with the same standards, and often allow on-campus and distance-education students to work with each other in the class," he says. "There is nothing second class about our distance students or the way we teach those courses."
This post was originally published in NC State News.
~hunt~
Return To News Homepage