CSC News
December 12, 2017
Faculty Inventors Honored
Tracey Peake | News Services | 919.515.6142
Two faculty members at North Carolina State University are being named fellows by the National Academy of Inventors (NAI).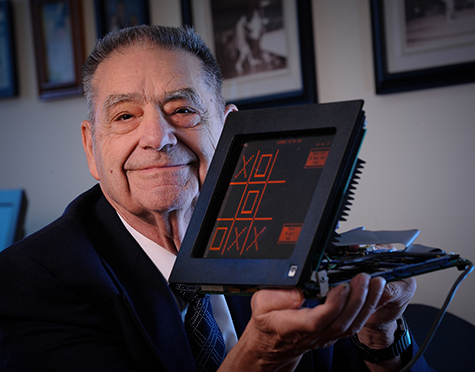 The new NAI fellows are Donald L. Bitzer, Distinguished University Research Professor of Computer Science (pictured at right), and William Ditto, professor of physics.
The academic inventors and innovators elected to the rank of NAI Fellow are named inventors on U.S. patents and were nominated by their peers for outstanding contributions to innovation in areas such as patents and licensing, innovative discovery and technology, significant impact on society, and support and enhancement of innovation.
The 2017 Fellows will be inducted on April 5, 2018, as part of the Seventh Annual Conference of the National Academy of Inventors at the Mayflower Hotel, Autograph Collection in Washington, D.C.
Bitzer co-invented the flat plasma display panel in 1964. The technology was eventually applied to television screens, and millions of plasma TVs have been sold to the public since they were introduced in the 1990s. His work on the plasma display monitor earned him an Emmy Award in 2002. He also invented and co-developed Programmed Logic for Automated Teaching Operations, or PLATO, the first computer system to combine graphics and touch-screen displays.
Ditto, an expert in nonlinear dynamics, artificial intelligence and chaotic systems, leads NC State's Nonlinear Artificial Intelligence Laboratory that has generated recent discoveries in reconfigurable computing, chaotic computing and astrophysics. Ditto is recognized internationally for the development a new type of computer based upon nonlinear dynamics and chaos. His findings have been used to study new ways of controlling heart arrhythmias, seizures and epilepsy.
Bitzer and Ditto join seven other NC State faculty who have previously been named NAI fellows: David Aspnes, Distinguished University Professor of Physics; B. Jayant Baliga, Distinguished University Professor of Electrical Engineering; Ruben Carbonell, Frank Hawkins Kenan Distinguished Professor of Chemical Engineering; Jerome Cuomo, Distinguished Research Professor of Materials Science and Engineering; Frances S. Ligler, Lampe Distinguished Professor in the Joint NC State-UNC Department of Biomedical Engineering; Jay Narayan, John C.C. Fan Distinguished Chair Professor of Materials Science and Engineering, and Franky So, Walter and Ida Freeman Distinguished Professor of Materials Science and Engineering.
The NAI is a 501(c)(3) non-profit member organization comprising U.S. and international universities, and governmental and nonprofit research institutes, with over 3,000 individual inventor members and fellows spanning more than 240 institutions, and growing rapidly. It was founded in 2010 to recognize and encourage inventors with patents issued from the U.S. Patent and Trademark Office, enhance the visibility of academic technology and innovation, encourage the disclosure of intellectual property, educate and mentor innovative students, and translate the inventions of its members to benefit society.
~peake~
Return To News Homepage