CSC News
December 29, 2017
Over 200 CSC Graduates Honored During Fall Diploma Ceremony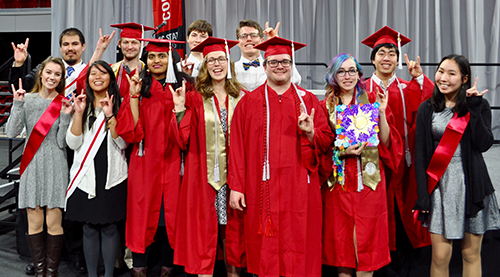 On December 15th, NC State's Reynolds Coliseum was filled with friends and family cheering, hooting, and hollering for the 215 recent computer science graduates. This year's class included 18 Ph.D., 116 M.S., and 81 B.S. degree recipients. The top employers of this year's graduates are Amazon, VMware, EMC Dell, NetApp, SAS, Fidelity Investments and LexisNexis.
The undergraduate class included seven Valedictorians with a perfect 4.0 GPA: Elizabeth V. Gilbert, Matthew C. Hill, Aaron Michael Kerr, Leonard Witmore Kerr, Aaron Neill McGill, Jacob Clarence Stone, and Tsu-Hsin Yeh; three University Honors Program students: Dana B. Cristo, Leonard Whitmore Kerr, and Stephen Eugene Worley; nine Computer Science Honors Program participants: Jacob Thomas Casper, Dana B. Cristo, Spatika Ganesh, Elizabeth V. Gilbert, Miguel A. Migliore, Yuang Ni, David A. Seybold, Jacob C. Stone, and Yuxu Yang; and numerous members of a variety of scholastic honor societies.
This spring's graduating class included many remarkable students including:
Rachel Baker, an active member of many student organizations. Rachel was the President of the Campus Christian Fellowship and a member of Women in Computer Science. She participated in University Theatre and the Study Abroad program where she spent the Spring 2016 semester in Lund, Sweden.
Arjun Bhatia, was a 2014 intramural table tennis champion, President of the NC State Carrom Club, and Webmaster for the NC State IEEE Student Chapter.
Elizabeth Gilbert, a participant of the Computer Science Honors Program and Computer Science Student Ambassador, is also the recipient of an Award of Excellence in FLN 101 the introductory Hindi/Urdu class. Elizabeth participated in Undergraduate Research under the Direction of Dr. Tiffany Banes and was a TECHGirlz volunteer.
Matthew Wayne Price, a very active member of University Theatre, appeared in "Arcadia", "The Merry Housewives of Windsor", and "Pride and Prejudice". He was also a long-standing, active member of the Tabletop Gamer's Club.
Peter Dafoe Sherk, a member of Grains of Time and the NC State Chorale, where he was a section leader. He is graduating with a Minor in Psychology. Peter interned at InMotionNow, Qualcomm, and Volvo.
We were honored to have Michael S. Lipps serve as the keynote speaker. Lipps is the President and Chief Operating Officer of MercuryGate International, a high-growth private equity-backed cloud software company in the Supply Chain Transportation Management segment.
Lipps began his remarks with a passage from the ever popular, Oh The Places You'll Go by Dr. Suess. He urged the graduates to reflect on their past, seize their new opportunities, and be a sponge taking in new information. Lipps looked back on his own past and advised the graduates that the odds do not apply to you if you don't let them.
He finished by challenging the students to ask themselves three questions: "Are you better now than six months ago?", "How much better will you be in six months?", and "How do you know?".
Our special thanks go to the Computer Science Department ePartners Program, its participating corporate sponsors, and the NC State Engineering Foundation for their generous sponsorship of this event.
~scanlon~
Return To News Homepage