CSC News
November 22, 2017
Fall Diploma Ceremony Set for December 15th in Reynolds Coliseum
You are invited to attend the NC State University Computer Science Department Spring Diploma Ceremony on Friday, December 15th at 3:30 p.m. The ceremony will be held in the recently renovated William Neal Reynolds Coliseum on the campus of NC State University, located at 2411 Dunn Avenue, Raleigh (directions).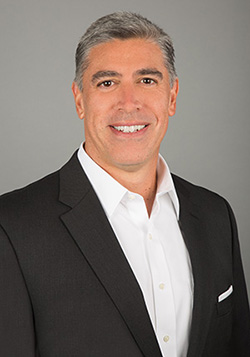 Michael Scott Lipps will provide the keynote address. Lipps is currently the President and Chief Operating Officer of MercuryGate International, a high-growth private equity-backed cloud software company in the Supply Chain Transportation Management segment. MercuryGate is a leading provider of cloud solutions and powerful analytics for the multi-billion dollar global transportation market, enabling manufacturers and distribution companies to deliver global goods faster and more efficiently. In his role, Lipps leads all aspects of the company's operations, including software development, product management, financial operations, marketing and sales.
Prior to MercuryGate, Lipps was Division CEO of LexisNexis, leading a global software division headquartered on NC State's Centennial Campus. He led a portfolio of software businesses designed to support both the business and practice of law, building the North Carolina division from 90 to over 650 employees in a span of five years and doubling business revenues. He led LexisNexis North Carolina to be named the Technology Workplace of the Year by the North Carolina Technology Association in 2012, was named CIO of the year in the Triangle in 2014 by the Triangle Business Journal, and achieved Forbes prestigious Top Ten Employers in the US Tech Sector in 2015, alongside Google, Facebook and Intuit.
Prior to LexisNexis, Lipps spent 14 years in Silicon Valley at Intuit, Inc., leading a number of businesses including QuickBooks, the #1 rated small business financial accounting software product in the US with over four million customers. At Intuit, he held a variety of leadership roles including General Management, Software Product Management, Marketing, and Organizational & Process Management. He is a trained Six Sigma Black Belt.
Lipps has held roles as a member of the Advisory Board for the North Carolina Virtual Public Schools system and was most recently honored to be the Chairman for the American Heart Association's 2017 Triangle Heart Walk campaign. Born in Oakland, CA and son of a long-time public school teacher, he is a proud product of the California state public school system, attending California State University in Hayward, CA.
Approximately 200 graduates are expected to receive their degrees during the ceremony. Our special thanks go to the NC State Engineering Foundation and the ePartners Program for their generous sponsorship of this event.
Parking is available in the Coliseum Parking Deck located at 201 Jeter Drive. For the convenience of guests who might require overnight accommodations, there are a number of hotels located in the immediate area. For more information, click here.
NOTE TO GRADUATES: For the benefit of relatives and friends who may not be able to attend the event in person, the event will be available online via live video streaming at http://go.ncsu.edu/csc-diploma.
There are several ways to commemorate this special occasion. As each graduate is handed his/her diploma, a professional photographer will take his/her picture. A free color proof will be sent to each graduate's current mailing address, including a password for online viewing. There is no obligation to purchase prints. To receive email notification when photos are online, please visit www.photospecialties.com to pre-register. If a proof is not received within a week of the ceremony, please contact info@photospecialties.com or call 1-800-722-7033.
~coates~
Return To News Homepage