CSC News
November 14, 2017
Senior Design Center's "Posters & Pies" Planned for December 1st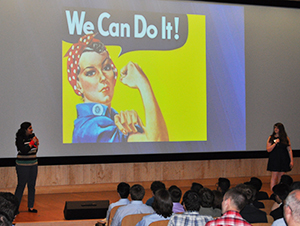 Please join us for the NC State Department of Computer Science Senior Design Center "Posters & Pies" event on Friday, December 1st, from 10:40 a.m.-1:00 p.m.
Each student team will give a brief presentation of their Senior Design project in the James B. Hunt Jr. Library Auditorium. After the presentations, pizza and dessert pies will be served, and you can enjoy project demonstrations and poster displays in Engineering Building 2 (EB2) in rooms 3001, 3002 and 1203A.
The event is sponsored by Builders Mutual, Credit Suisse, Merck, and Schwab, as well as the Computer Science ePartners Program and the NC State Engineering Foundation.
For directions to the Hunt Library and parking information, please go to: http://www.lib.ncsu.edu/parking
This semester, the sponsors and projects are as follows:
Cisco:

Validated Lightweight Crypto for IoT Environments

Fidelity Investments 1:

Focused Frog

Fidelity Investments 2:

Guardian Tool

IBM 1:

Cognitive Telescope Network

Avanade:

CSIR - Crowd-Sourced Infrastructure Review

Merck:

Service Project for The NC Collaborative for Children, Youth & Families - Helping Hands Training Portal

NetApp:

DUC - Deployment Usage Collection Service

BCBS of NC

:

Aardvark Data Visualization

Capital One:

Interactive Voice Assistant for Portfolio Management

Entrepreneurs:

Open Door

IBM 2:

Rivet - Automated Data Analysis for Syntactic Data Mining

Ipreo:

Herd

LabCorp:

Clinical Decision Support Using NLP

Premier:

Smart Integrator

American Red Cross:

LinkMe

BB&T:

Cyber Security Enhancements

Bronto:

Data Exploration Space

Dell EMC:

Server Utilization & Workload Characterization via Unobtrusive Monitoring

KPIT:

WorkWear Smart Glass Platform Enhancement

LexisNexis:

Law Firm Suggestion API

SAS:

Google Drive Integration with SAS Drive
If you plan to attend, please register online at https://goo.gl/forms/fOGMCsgeJqVcck0c2 by Tuesday, November 28th, so that we may properly plan for refreshments.
Please come join us! The media is welcome to this event.
Senior Design Center contacts:
Margaret R. Heil, Director, (919) 515-6020, heil@csc.ncsu.edu
Dr. Lina Battestilli, Technical Advisor, lbattestilli@ncsu.edu
Mr. Michael DeHaan, Technical Consultant, mpdehaa2@ncsu.edu
Dr. Sarah Heckman, Technical Advisor, sarah_heckman@ncsu.edu
Dr. David Sturgill, Technical Advisor, dbsturgi@ncsu.edu
Mr. Nick Freeman, TA, ndfreema@ncsu.edu
Mr. Ignacio Domínguez, TA, ixdoming@ncsu.edu
Media & Corporate Partnership contact:
Ken Tate, (919) 513-4292, tate@csc.ncsu.edu
~coates~
Return To News Homepage