CSC News
October 30, 2017
Visualizing Wildfire Narratives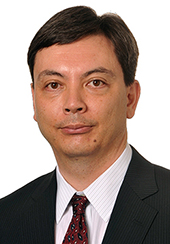 Dr. Christopher Healey, a Goodnight Distinguished Professor in the NC State Computer Science Department, is leading a project to identify, construct, and visualize risk narratives: conversations formed from explicitly or implicitly related social media posts over time.
The project, funded by the Center of Hybrid Multicore Productivity Research (CHMPR), will begin by building narratives based on an "anchor topic" of interest and estimate sentiment on the text within the narrative. The social media posts and related narratives will then be presented using an interactive, web-based text visualization system that represents posts, sentiment, narratives, and other text properties using a suite of text visualization techniques.
The project's overall goal is to assess the strengths, limitations, and capabilities of the system. Beyond this, the project hopes to determine how to scale the text analytics and visualization approaches as the social media database grows.
The total amount funded for the project, titled "Visualizing Wildfire Narratives, CHMPR Core Project," is $59,983. The award runs from September 27, 2017 to December 31, 2017.
~scanlon~
Return To News Homepage