CSC News
August 08, 2017
NC State Computer Science Undergrad Receives Distinguished WeTech Scholarship and Internship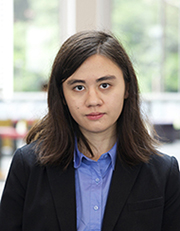 Megan O'Connor was recently awarded the Women Enhancing Technology (WeTech) Scholarship and Internship for University Women in Science, Technology, Engineering, and Math (STEM). The coveted award is only given to four college students nationwide and 14 across the globe. Each student is awarded a $10,000 scholarship for the 2017-2018 school year, as well as a paid 12-week internship with Juniper Networks, in the company's global headquarters in Sunnyvale, CA.
Hard work is nothing new to the award's recipient and NC State undergraduate student Megan O'Connor. O'Connor first began as an electrical engineering student before realizing the creative possibilities presented to her through computer science.
"You can do whatever you want with computer science. I like electrical engineering, but I realized if I wanted to do anything creative I'd have to do computer science. It opens so many doors."
Today, the electrical engineering and computer science double major, has focused her interest on game development and networking. Specifically, combining game engines and graphics for a career in the creative sector of computer science.
The award aims to support the continued interest of women in all fields of technology. However, to O'Connor, the award elicited more than just a continued interest.
"To me, the award means that I'm not alone. It can be intimidating, so companies like Juniper looking to help women will definitely get more girls in the future to study computer science."
Today, O'Connor is thrilled to begin her work with Juniper and take advantage of the scholarship she was awarded. In addition, she highly encourages other women to apply for the scholarship and continue to do what they love in the field of technology.
"The scholarship is pretty big, which is why it can be intimidating. I want to encourage more girls at NC State to apply and not be intimidated by it."
For more information on the WeTech Scholarship winners, click here.
~scanlon~
Return To News Homepage