CSC News
October 29, 2004
Wolfgrid Tests Strengths of Grid Computing Software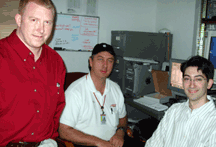 What if you had a bunch of computers all over the world, hooked together? That's a question that Sammie Carter, computer science senior, and Jon Harris, graduate student in the College of Design, had in mind when they began to build the Wolfgrid across the NC State community.
Using Apple's new Xgrid software, which came out in beta format in January, the two have been hooking up personal computers across campus, creating a virtual community grid that works like a super computer, performing tasks when the individual computers are not being used by their owners.
The student-initiated Wolfgrid project was launched in February, with guidance from Everette Allen, computing consultant with NC State's Information Technology Division and staff advisor for the project. The Wolfgrid currently allows collaborative computations on networked Macs; soon, Linux boxes will be added to the grid.
The Wolfgrid now includes about 25 computers, and the number grows daily, Carter says. He and Harris have done a bit of troubleshooting and creative problem solving while building the grid.
One problem dealt with the unpredictable speed of the individual computers, which varied depending on the computers' features and how they were being used. They resolved that by hooking up all the fast computers in one grid, and all the slow ones on another. Those first two grids are dynamic – people, and their computers, can come and go. As a result, computer processing on the grid can be fast or slow, depending on how many and the power of the computers that are connected to it.
"We're building a third grid that will be static, with a fixed number of computers." They are using computers in the university's computer labs for that one.
"The software being used for the grid is preview technology," Carter says. "Apple is beta testing it to see what people can do with it."
Carter and Harris presented their progress via videoconference to a recent meeting of the University of North Carolina CAUSE 2004 conference held in Boone, NC.
"The long term IT goal (of this project) is to see if we can scale this technology out and see if we can use the computing cycles that are not being used in the labs and even the office machines," Allen says.
But the greater value of the project, he says, "is to provide an outlet for creative students to do a project on their own, to get the extra experience, and also to create awareness that this technology is on the forefront for the groups that are interested." Exploring the potential for such technology is a great fit for computer science students. For design students such as Harris, it offers a chance to see how the new technology can be implemented to speed up their production processes. For example, when creating a movie with multiple components, "They can see if they can ship it out to a bunch of computers that are asleep and have them do the work, achieving a faster turnaround," he says.
For more information check the Wolfgrid Website.
-rzewnicki-
Return To News Homepage