CSC News
July 31, 2017
Welcome Back Bash Set for August 24th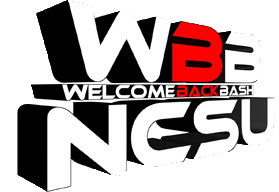 Engineering students, faculty and staff on Centennial Campus (including Computer Science, Electrical and Computer Engineering, Chemical and Biomolecular Engineering, Materials Science & Engineering, Biomedical Engineering, Mechanical & Aerospace Engineering, and Textile Engineering) are invited to attend the 2017 Welcome Back Bash on Thursday, August 24th, 5:00-8:00 p.m., rain or shine, outside on the Masnari Gateway and the brick oval at EB2.
There will be free food and beverages, music, and much more!
Students will also have the opportunity to interact with representatives of event sponsors including Computer Science ePartners BB&T, Eastman Chemical, IBM, Oracle, Premier and SAS. The event is also sponsored by the ePartners Program and the NC State Engineering Foundation. Numerous student organizations will also be attending, recruiting new members and advertising their accomplishments!
~###~
Return To News Homepage