CSC News
December 01, 2004
Frink Receives Award for New Software Tool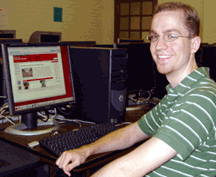 Jack Frink, senior in computer science, recently received an entrepreneurship award in recognition of his work in developing
Flesh
, a cross-platform, freeware Java application. He also received a $1,000 scholarship from the local company
n software
in recognition of his achievement. Neha Jain, also a computer science senior, assisted with extensive testing and feedback during the development process.
Frink developed the software tool to help with a research project that he and other students were engaged in through ThePrivacyPlace.org, a research group founded by Dr. Annie Antón, associate professor of computer science. The tool was used to evaluate online healthcare privacy policies that evolved in response to the Health Insurance Portability and Accountability Act (HIPAA). Flesh quickly analyzes a document (such as plain text files) and displays the difficulty associated with comprehending it.
A summary of their discoveries is published in Technical Report 2004-21, "An Analysis of Web Site Privacy Policy Evolution in the Presence of HIPAA," posted on the computer science department's website. The article is also currently under review for publication in IEEE Security and Privacy.
Flesh is available for both Mac OS X and Windows. Within days of publishing it, Flesh was downloaded by several hundred users. Frink continues to take feedback and is working to extend its functionality and overall utility.
- rzewnicki -
Return To News Homepage