CSC News
May 17, 2017
More Than 250 CSC Graduates Honored During Spring Diploma Ceremony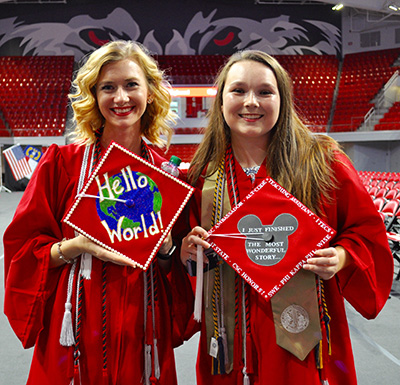 More than 250 BS, MS and PhD candidates celebrated their graduation during the Computer Science Department's Spring Diploma Ceremony held Thursday, May 11 at the newly renovated William Neal Reynolds Coliseum at NC State. More than 1,500 relatives, friends and guests were on hand for the celebration.
This spring's graduating class included two Ph.D., 140 M.S., and 114 B.S. degrees expanding the department's alumni base to more than 9,000. The top employers for this semester's graduates are Amazon, SAS and IBM.
The undergraduate class included 11 Valedictorians (perfect 4.0 GPA): Brian David Behrhorst, Garrett Andrew Bird, Christopher Wayne Bollinger, Patrick Benjamin Clouse, Mark V. DeMaria, Marcus Shaun Fath, Trevor R. Gasdaska, Eric William Horton, Gareth Charles Johnson, Xiangru Shu, and William Alexander Wimer; seven Computer Science Honors Program participants: Vaibhav Chawla, Adam Crowell, Alisse Harkins, Veeha Khanna, Kai Presler-Marshall, Mital Modi and Xiangru Shu; ten University Scholars Program participants: Westley Sinclair Auten, Paul Jason Buchanan, Nathan Allan Faulkner, Vanessa Anissa Frost, Kylie Amanda Geller, Phillip Emmanuel Hardy, Eric William Horton, Andrea Johnson, Dereck Makous, and Akshit Ashvinkumar Patel; six University Honors Program participants: Christopher Wayne Bollinger, Vaibhav Chawla, Adam Ronald Crowell, Daniel L. Gross, Dylan James Hahn, and Kai Presler-Marshall; and numerous members of a variety of scholastic honor societies.
This year's Computer Science Outstanding Senior Award recipients are: Mark V. DeMaria – Computer Science Senior Award for Citizenship; Kai Presler-Marshall - Computer Science Senior Award for Humanities; Marcus Shaun Fath - Computer Science Senior Award for Leadership; and Katherine Ellen Brey and Eric William Horton - Computer Science Senior Award for Scholarly Achievement.

Dr. Laurie Williams, Interim Head of the Department of Computer Science, congratulated the graduates on their accomplishments. This spring's graduating class included many remarkable students including:
Adam Linker

, a member of the NC State Men's Swimming and Diving Team, who is a three-time All American in swimming;

Billy Mullis

who is graduating with a minor in Military Studies/Aerospace Studies. On May 12, Billy was commissioned as a second lieutenant in the United States Air Force, and he will begin pilot training in February; and

Charles Newsom

who was a participant in the Army ROTC program, and will be commissioned as a second lieutenant in the United States Army. He will join the Virginia National Guard as a Cyber Warfare officer.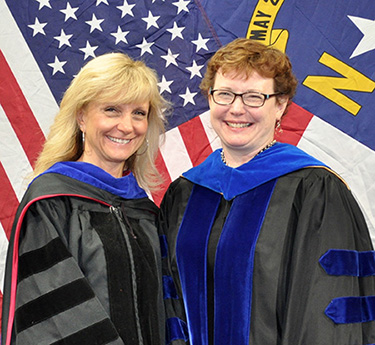 We were honored to have Dr. Elizabeth Mynatt (B.S. CSC 1988) serve as the keynote speaker. Mynatt is the Executive Director of Georgia Tech's Institute for People and Technology (IPat), a Distinguished Professor in the College of Computing, and the Director of the Everyday Computing Lab.

During her remarks, Mynatt lamented that the field of computer science lacks a professional oath to bind them together at this important moment as they embark on their careers. In the spirit of the medical field's Hippocratic oath, she challenged the graduates to join her and take the following oath, as a formal recognition of the importance of our field to the wellbeing of society, and our collective responsibility to fulfill our obligations:

Today, I join the ranks of computer scientists worldwide.
I will remember that I remain a member of society, with special obligations to all my fellow human beings.
I will design and build computing systems that enhance the quality of daily life for individuals and for society.
I will protect the dignity of users and others affected by computing systems, respecting the diversity of all cultures, and safeguarding against threats to health and safety.
I will respect the privacy and rights of all people and recognize the special role I have in judiciously collecting, storing and using their information, and creating systems that aim to shape their behavior.
I will work for fair wages; honorably guarding my reputation and my colleagues in our work practices, while respecting the intellectual contributions of others.
I will improve the public understanding of computing and its consequences.
May I always act so, as to preserve the finest traditions of my field, and may I long experience the joy of inventing the future through my endeavors.


Mynatt reminded the graduates of the inspiring words of Alan Kay, another pioneer in our field, who famously said, "The best way to predict the future is to invent it." She notes, "It is now on your shoulders to own that amazing opportunity and responsibility. And you have been in the right place to prepare you."

Our special thanks go to the Computer Science Department ePartners Program, its participating corporate sponsors, and the NC State Engineering Foundation for their generous sponsorship of this event.

(To view more pictures of the ceremony, visit the Computer Science Department's Gallery. Please see the entire video of the ceremony below.)
Return To News Homepage