CSC News
May 18, 2017
Singh Honored as Member of Research Leadership Academy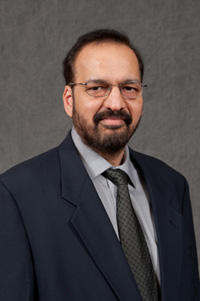 Dr. Munindar Singh
, Alumni Distinguished Professor of Computer Science in the NC State Computer Science Department, is one of 12 faculty members to be selected for the university's Research Leadership Academy, and the 2016-2017 Alumni Association Outstanding Research Award.
The academy promotes a culture of research leadership at NC State and operates as the faculty-driven epicenter for the development and implementation of best practices in the empowerment of research faculty at all levels of the university
Membership in the academy is lifetime as long as the member is associated with NC State. Members are expected to take an active role in promoting the research enterprise across campus for a minimum of three years.


Singh joined the NC State Department of Computer Science in 1995. He is a Fellow of the Association for the Advancement of Artificial Intelligence (AAAI), and of the Institute of Electrical and Electronics Engineers (IEEE). His research areas of interest include artificial intelligence, intelligent agents, cyber security, and social computing with applications in health care information technology and service-oriented systems.
Return To News Homepage