CSC News
May 03, 2017
Compelling "Not So Silent" Film Project a Success for NC State's Visual Narrative Cluster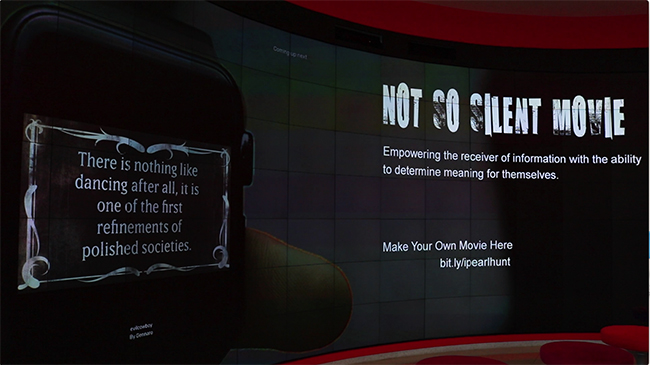 Visitors walking through the second floor entrance of Hunt Library are greeted by the iPearl Immersion Theatre that shows a wide variety of exhibits provided at NC State. One of the newest additions to the theatre is a collaborative exhibit that combines art, design, and computer science - the Not So Silent film project. Professors, students, and faculty worked together to create the progressive exhibit.
Everyone using the exhibit begins with the same content: clips of black and white American Western films, and Pride and Prejudice title cards. After considering the clips, visitors are able to assemble them any way they want to create their own story. Once these sequences of clips are gathered from visitors, analysis is done to eventually train algorithms that could combine small units of narrative to create richer stories.
Arnav Jhala
, Co-Director of the Visual Narrative Cluster and Associative Professor of Computer Science, explains the original idea behind the exhibit:
"We wanted to create a system that would simultaneously allow us to gather data on how people create many types of stories from a small set of visual units in the form of an engaging and enjoyable experience."
Keeping true to the exhibit's collaborative roots, many different individuals played a part in its creation. Hope Hutman, Artist-in-Residence for the Visual Narrative Cluster, contributed to the artistic design and direction of the project. Film curation and editing help came from Harrison Smith, an NC State design student. Fellow NC State students Daxit Agarwal and Matthew Scott Riegel also played vital roles in the project. Agarwal worked with UI Design, and Riegel took on the role of lead developer. Together, the team of faculty and students was able to piece together the interdisciplinary exhibit that wouldn't have been possible without the University's Visual Narrative Cluster.
Agarwal, who was introduced to the project through an extra credit opportunity, is thankful for the opportunity to work with not only a team of professionals, but also older students in the same field of study.
"Having someone like Hugh [Riegel] who has much more experience, and getting to collaborate with another developer in a team setting, was a huge thing for me."
In the same way, Riegel is thankful for an opportunity to apply his education to real-life situations. "I think I learned more through this project than I ever could in any class."
After just nine months of the Cluster's creation, Jhala credits the Visual Narrative Cluster for the project's success. "It wouldn't have been possible without all of the support from several different departments, from English to History, from the College of Design to Computer Science and Electrical Engineering."
The clips, title cards, and movie-making aspect of the project take on an artistic approach, while the algorithms and data collection gathered take a more mathematical viewpoint of the exhibit. Together, both disciplines bring a better understanding of each topic while building possibilities for future projects.
Hutman's artistic vision for the project seeks to give people the tools they need to create their own personal meaning with the content provided. The artist aims to represent the Western clips as society, and the title cards as a reflection on the generation's civilization of self.
While Hutman aims to restructure society and bring civilization from chaos, the short clips are analyzed mathematically and organized to tell a story. In the end, both disciplines support one another and show major accomplishments that can be made in such a short amount of time.

Return To News Homepage