CSC News
April 19, 2017
Spring Diploma Ceremony Set for May 11th in Reynolds Coliseum
You are invited to attend the NC State University Computer Science Department Spring Diploma Ceremony on Thursday, May 11th at 2:00 p.m. The ceremony will be held in the newly renovated William Neal Reynolds Coliseum on the campus of NC State University, located at 2411 Dunn Avenue, Raleigh (directions).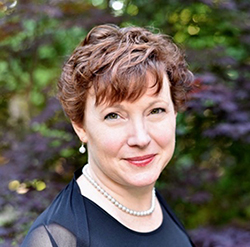 Dr. Elizabeth Mynatt
will provide the keynote address. Mynatt is the Executive Director of Georgia Tech's Institute for People and Technology (IPaT), a Distinguished Professor in the College of Computing, and the Director of the Everyday Computing Lab. She investigates the design and evaluation of health information technologies including creating personalized mobile technology for supporting breast cancer patients during their cancer journey, evaluating mobile sensing and mHealth engagement for pediatric epilepsy patients and their caregivers, and investigating the positive and negative influence of social media on self-harm behaviors such as eating disorders. She is also one of the principal researchers in the Aware Home Research Initiative; investigating the design of future home technologies, especially those that enable older adults to continue living independently as opposed to moving to an institutional care setting.
Mynatt is an internationally recognized expert in the areas of ubiquitous computing and assistive technologies. Her research contributes to ongoing work in personal health informatics, computer-supported collaborative work and human-computer interface design.
Mynatt is also the Chair of the Computing Community Consortium, an NSF-sponsored effort to engage the computing research community in envisioning more audacious research challenges. She serves as a member of the National Academies Computer Science and Telecommunications Board (CSTB) and as an ACM Council Member at Large. She has been recognized as an ACM Fellow, a member of the SIGCHI Academy, and a Sloan and Kavli research fellow. She has published more than 100 scientific papers and chaired the CHI 2010 conference, the premier international conference in human-computer interaction. Prior to joining the Georgia Tech faculty in 1998, Mynatt was a member of the research staff at Xerox PARC.
Her research is supported by multiple grants from NSF and NIH including Smart and Connected Health, CHS, HCC and CAREER awards. Other honorary awards include being recognized with a 2016 Georgia Tech Distinguished Leadership Award, and being named a Mobility Star in 2014 by the Atlanta Metro Chamber of Commerce and the Top Woman Innovator in Technology by Atlanta Woman magazine in 2005.
Mynatt earned her Bachelor of Science summa cum laude in computer science from NC State and her Master of Science and PhD in computer science from Georgia Tech.
Approximately 250 graduates are expected to receive their degrees during the ceremony. Our special thanks go to the NC State Engineering Foundation and the ePartners Program for their generous sponsorship of this event.
Parking is available in the Coliseum Parking Deck located at 201 Jeter Drive. For the convenience of guests who might require overnight accommodations, there are a number of hotels located in the immediate area. For more information, click here.
NOTE TO GRADUATES
: For the benefit of relatives and friends who may not be able to attend the event in person, the event will be available online streaming live via YouTube at
http://go.ncsu.edu/csc-diploma
.
The ceremony will be recorded and will be available on YouTube in the coming weeks.
As each graduate is handed his/her diploma, a professional photographer will take his/her picture. A free color proof will be sent to each graduate's current mailing address, including a password for online viewing. There is no obligation to purchase prints. To receive email notification when photos are online, please visit www.photospecialties.com to pre-register. If a proof is not received within a week of the ceremony, please contact info@photospecialties.com or call 1-800-722-7033.

Please note: Strollers will not be permitted inside the arena at Reynolds Coliseum. You are welcome to leave your stroller in a designated location within Reynolds; however Computer Science and Reynolds staff will not be responsible for any unattended items. We suggest you leave strollers in your vehicle.
Return To News Homepage