CSC News
April 17, 2017
Senior Design Center's "Posters & Pies" Planned for May 3rd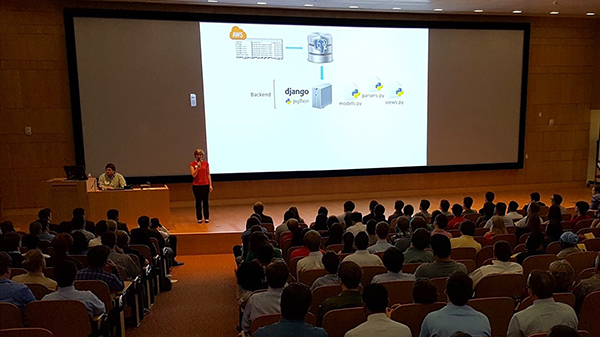 Please join us for the NC State Department of Computer Science Senior Design Center "Posters & Pies" event on Wednesday, May 3rd, from 5:30-8:00 p.m. Each student team will give a brief presentation of their Senior Design project in the James B. Hunt Jr. Library Auditorium on NC State's award-winning Centennial Campus. After the presentations, pizza and dessert pies will be served, and you can enjoy project demonstrations and poster displays in the Hunt Library IEI Duke Energy Hall.
The event is sponsored by Dell EMC, Oracle and Schwab, as well as the Computer Science ePartners Program and the NC State Engineering Foundation.
Please note
: Parking on campus is free after 5:00 pm on a space-available basis (excluding 24-hour reserved spots). After 5 pm, handicap spaces may be used with any state-issued placard or plate (before 5 pm, NC State-issued handicap permits are required).
This semester, the sponsors and projects are as follows:
Allied Telesis 1

: Product License Management System

Allied Telesis 2

: Remote Network Configuration for Industry

Bandwidth

: Catwalk - Realtime SMS Monitoring

Dr. Anita

: Facial Analysis

Freeh

: Wolfpack Athlete Management System (WAMS)

Merck

: Risky Business

NetApp

: StorageGRID Containerized Deployment Management

Premier 1

: Application Health Dashboard

SugarCRM

: Insulin

Triangle Strategy 1

: ShelfRokr

Triangle Strategy 2

: SmartJar

BCBS of NC

: Wörthersee

Duke Energy

: Load Signal Viewer

IBM 1

and IBM 2: Waltz with Rosie - A Cinderella Story

Infusion

: Project Prairie

Ipreo

: Launch Street

KPIT

: The Windchill Factor

LabCorp 1

: Project Taiga - NLP-Based Method for Generating Clinical Decision Models

LabCorp 2

: Speech-to-Action

Bronto

: End-to-End Distributed System Tracing

Dell EMC

: One-Click Rule Deployment

Entrepreneurs

: Cookomatic

Fidelity Investments

: Fidelity Chatbot

Fujitsu America

: Marketplace Migration & Refactoring

LAS

: PigSplicer

Premier 2

: Source Code Static Analysis

SAS

: Python to C++ Native Interface

Schwab

: Budget Staffing Planner
Please come join us! The media is welcome to this event.
Senior Design Center contacts:
Media & Corporate Partnership contact:
Return To News Homepage