CSC News
February 17, 2017
New Computer Science Peer Mentoring Opportunity to Begin in Fall of 2017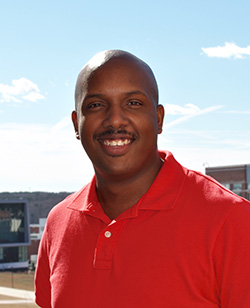 A new Peer Mentoring program in the NC State Computer Science Department will begin in Fall of 2017 with the goal of developing students on various academic and professional levels. The program, led by PhD student Earl Huff, aims to develop successful students and expose them to new opportunities.
"The program's idea is to help students feel more confident to take on this major, to succeed, and to be able to continue in either graduate school or in industry," says Huff.
Peer mentoring is a strong bond between mentor and mentee that fosters confidence and a better understanding of difficult material. Among the various benefits of a mentoring program, it is also proven to result in higher retention and graduation rates.
Students who participate in the peer mentoring program would be matched with a dedicated mentor, willing to provide help and promote success within the discipline. Mentors will receive valuable leadership skills to be applied everywhere from academia to industry work.
Huff, who is advised by Dr. Tiffany Barnes, has high hopes for the program's success, and plans to set the stage for the program to continue for many years. His vision for success includes a multi-tiered program where any student ranging from undergraduate to doctoral studies can benefit from the mentorship program.
Fall 2017 will be the launch of the pilot program, and the first semester will mainly focus on academic skill development and college transition, as well as forming a positive mentor/mentee relationship. Plans for the spring semester include more academic development, and a service project.
Huff is also focusing on collaborating with various computer science student organizations. These collaborations are done in the hope of reaching out to more of the student body within the department and demonstrating a shared goal of promoting academic and professional advancement for all. According to Huff, the program strives to, "be an inclusive community within the department."
Students must complete and submit an application to be considered. The program is open to both undergraduate and graduate students interested in the opportunity.
If you have any questions regarding the mentoring program, please contact Earl Huff at ewhuff@ncsu.edu.
Save
Return To News Homepage