CSC News
January 30, 2017
Singh Elected AAAI Fellow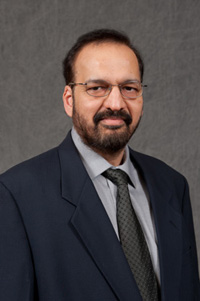 Congratulations to Dr. Munindar Singh, Alumni Distinguished Graduate Professor of Computer Science at NC State, on recently being elected a Fellow of the Association for the Advancement of Artificial Intelligence (AAAI).

The AAAI Fellows program was started in 1990 to recognize individuals who have made significant, sustained contributions -- usually over at least a 10-year period -- to the field of artificial intelligence. Fellows are recognized as having unusual distinction in the profession, and the program, as originally chartered, honors a small percentage of AAAI membership.

Singh, who became an Institute of Electrical and Electronics Engineers (IEEE) Fellow in 2009, was recognized by the AAAI for his significant contributions to multiagent systems, especially via seminal formalizations of the interactions, communications, trust and commitments among intelligent agents and services.

Singh's research interests include multiagent systems and service-oriented computing, wherein he addresses the challenges of trust, service discovery, and business processes and protocols in large-scale open environments. He is currently editor-in-chief of ACM Transactions on Internet Technology, and was the editor-in-chief of IEEE Internet Computing from 1999-2002. He is a founding member of the editorial boards of IEEE Internet Computing, Journal of Autonomous Agents and Multiagent Systems, and Journal of Trust Management. He serves on the editorial boards of ACM Transactions on Intelligent Systems and Technology and IEEE Transactions on Services Computing.

Previously, Singh served on the founding steering committee for the IEEE Transactions on Mobile Computing and the editorial boards of Journal of Web Semantics, Journal of Artificial Intelligence Research, and Service-Oriented Computing and Applications. He serves on the founding board of directors of IFAAMAS, the International Foundation for Autonomous Agents and MultiAgent Systems. He was general co-chair of the 2005 International Conference on Autonomous Agents and MultiAgent Systems and program co-chair of the 2008 IEEE International Conference on Web Services.

Singh has previously advised many students (seven postdoctoral fellows, 25 PhD students, and 27 research Masters Degree students), and he is currently advising one postdoctoral fellow and four PhD students.

His research has been recognized with awards and sponsorship from (alphabetically) Army Research Laboratory, Cisco Systems, DARPA, Ericsson, IBM, Intel, Joint Oceanographic Institutions, National Science Foundation, National Security Agency, and Xerox.

He earned a B.Tech in Computer Science and Engineering from the Indian Institute of Technology, Delhi, in 1986, and a PhD in Computer Sciences from the University of Texas at Austin in 1993.

About AAAI

Founded in 1979, the Association for the Advancement of Artificial Intelligence is a nonprofit scientific membership society devoted to advancing the scientific understanding of the computational mechanisms underlying thought and intelligent behavior and their embodiment in machines. AAAI aims to foster the science and practice of artificial intelligence (AI), as well as to increase public understanding of artificial intelligence (AI), improve the teaching and training of AI practitioners, and provide guidance for research planners and funders concerning AI developments and directions. Each year, AAAI sponsors numerous programs including scientific conferences, workshops, and symposia.

For more information on Singh, click here.

For more information on the AAAI Fellows Program, click here.
~coates~
Return To News Homepage