CSC News
January 17, 2017
Onorio's Walk West Changing the Way Companies Do Business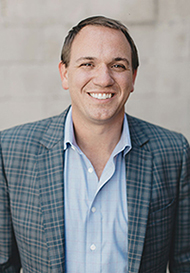 Long ago, a newspaper columnist wrote "Go West Young Man, Go West" and the phrase captured the attention of many Americans looking for new beginnings. It also rang true for NC State computer science alum, Brian Onorio (CSC BS '04) during his venture into the working world.
Onorio blends his knowledge of computer science with marketing to create the digital-first marketing agency, Walk West. A new age version of Mad Men, Walk West is an innovative and groundbreaking company leading the way for digital issue advocacy.
The company's name communicates their willingness to push boundaries and explore the unknown.
"The movement west has always been bravery, the courage to do something different," said Onorio.
In a world that places such emphasis on technology, Onorio believes this technology has completely transformed marketing.
"You can't really market effectively without some kind of technology," he said.
His agency works to build infrastructure that supports various types of marketing, ranging from web design to social media marketing to content creation. A recent merger with a public and government affairs firm, run by Onorio's wife Laurie, resulted in a fresh digital approach to issue advocacy.
Among the success stories to their credit, Onorio points to North Hills in Raleigh, NC. An upscale collection of boutiques and restaurants, the digital presence of North Hills was redesigned by Walk West to better match the experience a customer receives. Walk West personalized the online experience using Web Design and Word Press technologies. The new website works like an app and reduces number of clicks to get to a destination within the site. These changes resulted in a 40% increase in pages per session and 8% decrease in bounce rate.
The Rex Women's Center of Raleigh, NC also employed the company to create a fun and entertaining video showing mothers why they should choose Rex Health Center to deliver their babies. The video used real nurses and doctors while relaying real information in an interesting way.
A company centered around progress, Onorio compares Walk West to English settlers traveling West in search of a new world. "We're not afraid to do things differently. Above convention, above the standard, above the normal, we really want to think and go beyond what that means."
Walk West specializes in helping companies campaign and lobby online, and gain awareness and support for their issues. Specifically, Walk West brings this service to the digital forefront offering a virtually one-of-a-kind service. The "pioneers" of Walk West strive to do things differently, bringing a new approach to digital issue advocacy and digital marketing.
Based in Raleigh, on NC State's Centennial Campus, Onorio credits close ties to the University with the relationships he made as a student. "I really loved the people that I surround myself with at NC State. I've got a soft spot in my heart for the school. It's a place I love being back."
Like so many of his fellow computer science alums who have taken life's entrepreneurial path, Onorio found a way to leverage his computer science degree with a passion for marketing to launch a company that is disrupting the space in a new and pioneering way.
"NC State prepared me very, very well for the world. NC State certainly gave me a lot and any chance I have to give back to the community, specifically to the department of computer science, it's always rewarding."
Return To News Homepage