CSC News
December 09, 2016
Kimberly Calhoun Kicks Off Spring 2017 Fidelity Investments Speakers Series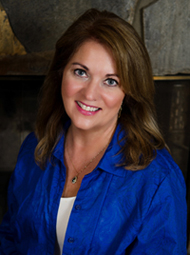 Please join us on January 24th at 6 p.m. in room 1231 in Engineering Building 2 as we kick off our Spring 2017 Fidelity Investments "Leadership in Technology" Speakers Series.
Our special guest speaker will be Kimberly Calhoun, CEO and Founder of Guardianator. Her talk topic will be "Trade Secrets of a Serial Entrepreneur."
Calhoun is an engineer, a serial entrepreneur, and a TV Host for MoneyMasters on PBS where she interviews some the world's leading CEO's, Money Experts and Authors in roundtable discussions. She has 30 plus years' experience building profitable business organizations from startup ventures, acquisitions, turnarounds, and high-growth organizations.

She began her career in 1984 as a Telecom Engineer where she was part of implementing new technology and establishing new standards which are currently used today, including broadband with the North Carolina Information Network Highway. In most jobs she was the first and only female hired. She studied Japanese for two years at NC State to improve her communications skills with her colleagues when she was employed with Fujitsu. She worked in high tech sales managing 16 states in the South East where she developed zero dollar territories into million dollar territories and managed government contracts.

In 1999, on a dare, she started a small telephone company, obtaining all the licenses herself and operated in over six states successfully. She was very instrumental in improving the laws and the filing procedures with the PUC and was the first company to achieve approval to operate in a whole state. She has documented success in obtaining a $138M VC for a fiber project which she did in a seven minute pitch.

In 2010 she sold the telecom licenses for her business and planning to retire when she saw a disturbing problem involving domestic violence victims in the criminal justice system. She has since invented and patented a new use of technology to enforce protective orders, by providing law enforcement with admissible evidence and a means to intervene when orders are violated. With a working prototype and a perfect team, her invention is now part of a bigger project with National Institute of Standards Technology (aka NIST) and Smart cities, and they are planning to launch their first pilot.
Abstract
: Strategies and insider details of working for Corporations and merging to Entrepreneurship in High Tech industries and trending technologies.
The event is free and open to the public. Ample free parking is available on Centennial Campus after 5 pm. For directions and more information, click here.
These lectures have been approved by the CSC Graduate Oversight Committee to count toward the required lectures for graduate students.
Return To News Homepage