CSC News
October 21, 2004
Young was Panelist in 'Game Night' Technology Forum
Dr. Michael Young, assistant professor of computer science at North Carolina State University, was one of several sumulation experts participating in the
Council for Entrepreneurial Development
(CED)'s Technology Forum on October 20, 2004, 5:30 p.m. at Peak 10. The CED is a corporate partner in the Department of Computer Science's
ePartners Program
.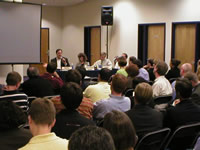 Dubbed 'Game Night, the forum showcased 'serious games' that are extending interactive entertainment technology beyond computer and video games to serve the education and training needs of businesses and government organizations.
Young's research focuses on the development of core artificial intelligence techniques for use within virtual environments, with applications to entertainment, training, education and other interactive contexts. He directs the Liquid Narrative research group and is co-director of the Center for Digital Entertainment in the College of Engineering's Department of Computer Science.
Game Night showcased how area simulation learning, training and 3D game companies are blending collaborative PC game technology, rich 3D multimedia and instructional design to teach individuals to perform complex tasks, operate equipment and make quick decisions.
Tech Forum panelists included:
"Serious Games are serious business, especially here in the Research Triangle Area," said Boosman. "We have a unique convergence of leading-edge organizations here, from academia to core technology developers and application creators. This event was an opportunity to bring this community together for the first time and discuss how we can make the Research Triangle region synonymous with this important new industry."
Following the panel discussion, attendees had an opportunity to tour Peak 10's state-of-the-art data center and view demos from local organizations making breakthroughs in 'serious gaming' technology, including 3Dsolve Inc., North Carolina State University, Applied Research Associates, Research Triangle Institute, do2Learn, Octagon Entertainment and Discovery Machine.
More details are available at the CED website.
- CED & rzewnicki -
Return To News Homepage