CSC News
November 14, 2016
Whittenburg to Speak at Fall Diploma Ceremony in Reynolds Coliseum
The NC State University Computer Science Department will hold its Fall Diploma Ceremony on
Thursday, December 15th at 1:00 p.m.
in the newly renovated
William Neal Reynolds Coliseum
on the campus of NC State University, located at 2411 Dunn Avenue, Raleigh (
directions
).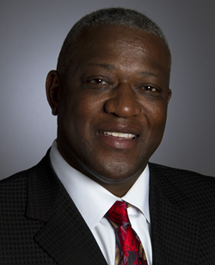 We are honored to have Dereck Whittenburg, Associate Athletic Director for Community Relations and Student Support at NC State University, serve as our keynote speaker.
Whittenburg, a member of NC State's 1983 national championship men's basketball team, has been in or around basketball for most of his life. A high school All-America from DeMatha High School, he was recruited by Norm Sloan to NC State, but became a household name playing under Jim Valvano from 1980 to 1983. His status as Wolfpack icon and hero were solidified with his last second shot/pass that Lorenzo Charles slam dunked to help the Wolfpack win the 1983 national championship. He was drafted in the 3rd round of the 1983 NBA Draft by the Phoenix Suns.
Starting in 1985, Whittenburg spent 30 years in coaching serving in a variety of assistant and head coaching positions. Most recently, he worked with the Wolfpack men's basketball program as Senior Assistant to the Head Coach/Director of Player Development.
Whittenburg currently serves as NC State's Associate Athletic Director for Community Relations and Student Support, a role he has held since October 2015. In this role, he develops and promotes programming aimed to benefit current and former student-athletes, while also working to cultivate relationships with local and regional businesses regarding future employment opportunities for Wolfpack graduates. Additionally, Whittenburg's role include speaking at and hosting events for the athletic department and other affiliated organizations, as well as supporting on-campus recruiting initiatives for each of the Wolfpack's 23 varsity programs. Whittenburg also serves as an advocate for former student-athletes to return to NC State to complete their respective degrees and he serves on NC State's professional sports panel.
In 2015, Whittenburg and his wife, Jacqueline, established the Dereck Whittenburg Foundation for Education to provide need-based scholarship support for students at NC State and Shaw University. Computer Science student Jorge Ramos Ruiz, was among the first four inaugural recipients of scholarships from NC State University.
Approximately 200 graduates are expected to receive their degrees during the ceremony. Our special thanks go to the NC State Engineering Foundation and the ePartners Program for their generous sponsorship of this event.
Parking is available in the Coliseum Parking Deck located at 201 Jeter Drive (directions). For the convenience of guests who might require overnight accommodations, there are a number of hotels located in the immediate area. For more information, click here.
NOTE TO GRADUATES
: For the benefit of relatives and friends who may not be able to attend the event in person, the event will be available online via live video streaming at
go.ncsu.edu/csc-diploma
. Firefox, Internet Explorer and Safari are recommended for viewing the live streaming of the ceremony. To verify that your computer meets the minimum requirements for smooth streaming, please visit this site:
http://www.sonicfoundry.com/site-requirements
.
There are several ways to commemorate this special occasion. As each graduate is handed his/her diploma, a professional photographer will take his/her picture. A free color proof will be sent to each graduate's current mailing address, including a password for online viewing. There is no obligation to purchase prints. To receive email notification when photos are online, please visit www.photospecialties.com to pre-register. If a proof is not received within a week of the ceremony, please contact info@photospecialties.com or call 1-800-722-7033. Additionally, professional AV capabilities allow for live broadcast of the ceremony from multiple cameras angles, and DVDs of the ceremony are available for a nominal $25 processing fee. Contact Tammy Coates for more information.
Return To News Homepage