CSC News
November 14, 2016
Senior Design Center's "Posters & Pies" Planned for December 7th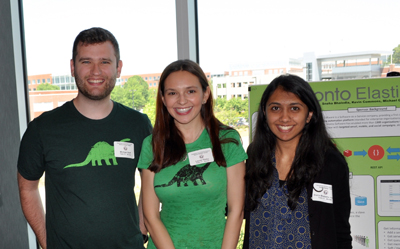 Please join us for the NC State Department of Computer Science Senior Design Center "Posters & Pies" event on Wednesday, December 7th, from 10:40 a.m.-1:00 p.m.
Each student team will give a brief presentation of their Senior Design project in the James B. Hunt Jr. Library Auditorium on NC State's award-winning Centennial Campus. After the presentations, pizza and dessert pies will be served, and you can enjoy project demonstrations and poster displays in the Hunt Library Duke Energy Hall.
The event is sponsored by Deutsche Bank Global Technolgies, Oracle, Zift Solutions, as well as the Computer Science ePartners Program and the NC State Engineering Foundation.
This semester, the sponsors and projects are as follows:
DeHaan

: Squadster – Re-eventing Social Networking

Infusion

: SmartVision

Interactive Intelligence

: Contextual Security Dashboard

LexisNexis

: Duplication Detection

Merck

: An Explorative Study of User Managed Access

Principled Technologies

: VR Assessment – Room Escape

Triangle Strategy

: ShelfRokr – IoT for Smarter Retail

Blue Cross Blue Shield of NC

: Healthcare Data Visualization

IBM

: Enterprise Exception Handler Plugin

Ipreo

: Financial Interference Engine

KPIT

: Warming Up Windchill

Premier

: Application Lifecycle Management Tool

Bronto:

Code Scanner

DBGT

: ChainLink

EMC

: Shim Layer Resource Management

NetApp

: Client-Side QoS

SAS

: Project Cerberus
Please come join us! The media is welcome to this event.
Senior Design Center contacts:
Media & Corporate Partnership contact:
Return To News Homepage