CSC News
October 28, 2016
Department Launches "Faces of Computer Science" Display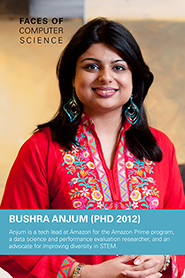 Upon entering Engineering Building 2 on NC State's Centennial Campus, the passion for computer science from students and faculty is hard to miss. A new display located in the main classroom hallway in the east wing of the building entitled "Faces of Computer Science" makes by-passing this passion nearly impossible.
The display highlights a dozen current or former students who are using their computer science degrees, many combined with a life passion, to make a real impact on the world. Diversity of gender and ethnicity, as well as diversity of thought and career interests, are a common thread in the display that includes entrepreneurs, game developers, scientists, a weatherman, and even an aspiring astronaut.
Central to the powerful message in the display, according to Ken Tate, director of engagement and external relations, is that you can do anything with a degree in computer science. "I tell students all the time that a degree in computer science is a 'magic ticket'! Combine this degree with a passion for anything and you can change the world."
According to Tate, the display is an extension of the department's comprehensive outreach campaign designed to help shape a more realistic understanding and perception of what computer scientists do in their careers. "Computer science is not coding and programming, rather it is a technology enabler that allows for creative and innovative problem solving," says Tate.
The picture of each current or former student featured in the display is presented on colorful 24x36 high gloss metal prints along with their major accomplishments in computer science.
Tate says, "The display is arranged like a gallery, and we expect this to be a very popular 'tour stop' for prospective students visiting campus."
Return To News Homepage