CSC News
September 29, 2016
Kekas Receives AURP Leadership Award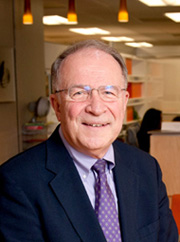 Congratulations to Dennis Kekas, Associate Vice Chancellor for Centennial Campus Partnerships at NC State, on receiving the Leadership Award from the Association of University Research Parks (AURP). The award is one of the association's 21st Annual Awards of Excellence, which were presented during the association's 2016 International Conference in Oklahoma City.
The AURP Leadership Award is given in recognition of a business, university or governmental leader who has made an outstanding contribution to the success and total community impact of a university research and technology park. According to the award announcement, "Kekas has been a pivotal leader in attracting dozens of companies who develop partnerships with the University's faculty and students. Since 2006, employment at the park has nearly skyrocketed from 1,800 to 3,200 employees, despite a recession-slowed economy. He has also been a major player in garnering some of the largest contracts and research awards in the history of Centennial Campus and NC State, including: Eastman Chemical ($10 million); the Department of Defense's Laboratory for Analytical Science, or LAS ($65 million); and the National Network for Manufacturing Innovation grant from the Department of Energy ($146 million consortium and the largest in the university's history)."
The Association of University Research Parks is a professional association of university related research and science parks. AURP's mission is to foster innovation, commercialization and economic growth through university, industry and government partnerships.
To see the complete list of the 21st Annual Awards of Excellence winners, please click here.
Return To News Homepage