CSC News
September 29, 2016
Novitsky Helps Kick Off Congressional App Challenge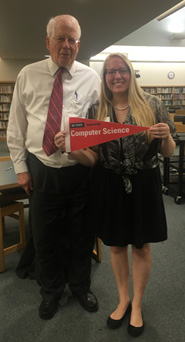 Melissa Novitsky
, an undergraduate in the NC State Computer Science Department, participated in Rep. David Price's Congressional App Challenge Kick Off event on September 15 in Raleigh. The Congressional App Challenge is designed to promote STEM education by recognizing and incentivizing young talent to create a concept or source code for an online or mobile application ("app").
Novitsky (pictured at right with Rep. Price), who is president of Women in Computer Science (WiCS), a Computer Science Student Ambassador, a STEM Scholar at NC State, and an NCWIT Aspirations in Computing Award Winner, gave a talk during the event about her experiences in technology, and the importance of STEM education.
The 2016 Challenge takes place from July 18-November 2, 2016, and is open to all students in participating districts, who have not yet graduate from high school. For the full list of participating districts, visit
www.CongressionalAppChallenge.us
. In 2015 the App Challenge had 116 successful events hosted by Members of Congress, over 1,700 student participants and more than 500 apps submitted. So far, 161 Members of Congress from 38 states are participating in the 2016 Challenge.
The first Congressional App Challenge Hackathon, hosted by Congressman David Price (NC-04) and Congressman G.K. Butterfield (NC-01), is planned for Saturday, October 15, 2016 from 10 a.m. – 4 p.m. at The Frontier in Research Triangle Park, NC. Mentors will be on hand to help students and teams start, develop, or complete an app for the Challenge. Participants must bring a laptop for the Challenge. Lunch and snacks will be provided.
A local panel will decide the winner of the App Challenge, and the winning app will be featured in an interactive display in the United States Capitol. Additionally, Amazon Web Services has announced that it is providing $50,000 in AWS credits used for cloud computing services to be split among the winners nationwide (with parental consent). All participants will be recognized by Congressman Price at a reception at the Friday Institute at NC State on November 17.
For more information, or to register for the event, please click here.
Return To News Homepage