CSC News
September 20, 2016
Welcome New Student Ambassadors!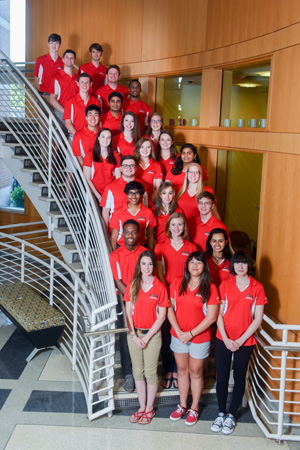 The NC State Computer Science Department is pleased to welcome the latest additions to the NC State University Department of Computer Science Student Ambassador Program.
The Ambassador program is made up of sophomores, juniors, and seniors who serve as representatives of the department. The program promotes leadership and communications skills by offering students the opportunity to represent our department at a variety of academic, social and networking events held throughout the academic year, and through personal interface with prospective students through our outreach efforts. Ambassadors are the first point of contact for many visitors to NC State, so they are required to promote the University, the College of Engineering, the Computer Science Department, and the computer science discipline.
The 2016-2017 CSC Student Ambassadors are (new ambassadors in bold face):
Seniors
– Jason Buchanan, Dana Christo, Wesley Coats, Mark DeMaria, Vanessa Frost, Spatika Ganesh, Anna Gass, Kylie Geller, Elizabeth Gilbert, Alisse Harkins, Brendan Kelley, Veeha Khanna, Caroline Law, Louis Le, Michael MacKrell, Melissa Novitsky, Thomas Ortiz, Robert Reichel, Maya Shankar, Erin Snider, and Jacob Stone;
Juniors
– Madison Hess, Thomas Josephson, and Carolyn Thompson;
Sophomores
– Hardik Aneja, Malik Majette, Clarissa Rainear, and Neill Robson.
All Student Ambassadors are matriculated CSC undergraduate majors at the sophomore level or higher. Applications and nominations are taken in the spring and the competitive selection process includes an interview and group feedback from a special mixer event. Ambassadors work in one-year terms, renewable until they graduate, at the discretion of the department leadership based on overall participation, performance and academic progress.
"The CSC Ambassadors play an integral part in the department, and we greatly appreciate all they do for us," says Ken Tate, Director of Engagement and External Relations. "Last year the ambassadors, as a group, volunteered more than 615 hours at 88 departmental service opportunities. Opportunities included visitor engagement at Open House, weekly tours for future students and their parents, serving as hosts and guides for the ePartners Career Connection, and writing personalized notecards to all accepted computer science intended accepted freshmen."
The CSC Ambassadors would like to extend their appreciation to their ePartner sponsors for the 2016-2017 academic year including Blackbaud, Cisco, Credit Suisse, Dude Solutions, Eastman, Informatica, Premier, and SAS. Their support provides funds to cover special events, outreach-related travel, branded attire, service awards and a year-end recognition event. Sponsors have the opportunity to engage directly with the ambassadors group via structured opportunities such as dedicated mixers, panels, info sessions and/or development sessions.
Learn more about each CSC Student Ambassador
here
.
Return To News Homepage