CSC News
September 12, 2016
Sit With Me: NC State, Eastman Hold "Red Chair" Event to Increase Women in IT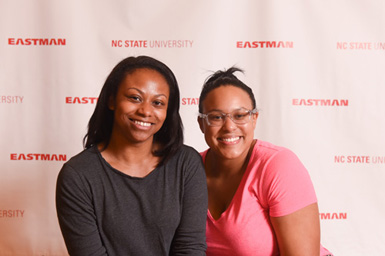 The number of women who choose careers in information technology has declined dramatically. On Thursday,
September 8, 2016,
NC State and Eastman co-hosted an event
at the Talley Student Union
designed to bring about change.
Sit With Me
, which drew students, NC State faculty and Eastman professionals to Talley Student Union, offered all participants the chance to sit in the iconic Sit With Me "Red Chair" to express thoughts of encouragement or empowerment to women. Sit With Me is a nationwide initiative created by the National Center for Women and Information Technology (NCWIT).
Meryl Streep has sat in the Red Chair; Shaquille O'Neal, too. So has Facebook executive and "Lean In" author Sheryl Sandberg, in order to get the word out that women can find promising careers and make a difference in IT.
And you can be sure that NC State's Dr. Lina Battestilli has something to say about women in IT, too. Battestilli, a teaching assistant professor in the Department of Computer Science, is the faculty sponsor of Women in Computer Science at NC State.
"Sit With Me brings together students, faculty, and industry to showcase the many exciting opportunities in computer science today," Battestilli said. "We hope to generate discussion, share experiences, answer questions and break stereotypes on what computer scientists look like. We especially want to reach out to undecided female freshmen and encourage them to consider a Computer Science degree.
"There is no doubt that we need more women in tech innovation. Companies and teams perform better when there is diversity. Women need to be part of solving the world's problems and technology is a powerful tool to accomplish just that!"
The approximately 200 students who attended Sit With Me were able to speak to Eastman IT professionals and NC State faculty – from the Department of Computer Science and the College of Engineering – about the wide spectrum of careers available in tech innovation.
Those students were also made aware of the stark numbers of women in IT.
Women held 57 percent of the U.S. professional occupations in 2014, but only 26 percent of the professional computing jobs. In 2013, only 18 percent of bachelor's degree recipients in computer and information science were women. In 1985, that number was 37 percent.
Eastman vice president Keith Sturgill, the company's chief information officer, was a keynote speaker along with Terry Morreale, chief technology officer for NCWIT.
Sturgill said it's essential for Eastman to be involved with Sit With Me because of the educational component and the potential for empowering women. The two institutions have close ties, as NC State is one of the primary pipelines for recruiting talented computer science graduates, and Eastman maintains the Eastman Innovation Center on Centennial Campus.
"We're a global company, a Fortune 500 company, and we are constantly competing with other companies to hire the best and brightest people in the world to fill positions in information technology," Sturgill said. "We need to change the trend because women represent half or more of our available talent pool, and there's little doubt that many women who could be excellent IT professionals don't consider it for a career.
"We're making a concerted effort to turn that tide."
About Eastman

Eastman operates sites and offices around the world and produces a broad range of products found in items people use every day. With a portfolio of specialty businesses, Eastman works with customers to deliver innovative products and solutions while maintaining a commitment to safety and sustainability. Its market-driven approaches take advantage of world-class technology platforms and leading positions in attractive end-markets such as transportation, building and construction and consumables. Eastman focuses on creating consistent, superior value for all stakeholders. As a globally diverse company, Eastman serves customers in approximately 100 countries and had 2015 revenues of approximately $9.6 billion. The company is headquartered in Kingsport, Tennessee, USA and employs approximately 15,000 people around the world. For more information, visit www.eastman.com.

Return To News Homepage