CSC News
August 09, 2016
Vatsavai Receives Research Supplement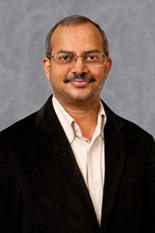 Dr. Ranga Raju Vatsavai
, associate professor of computer science at NC State University, has been awarded $19,999 in supplemental funding by Oak Ridge National Laboratory via US Dept. of Energy to support his research proposal entitled "
National Extreme Events Data and Research Center (NEED) Transforming the National Capability for Resilience to Extreme Weather and Climate Events
." The award will support the work of one of Vatsavai's graduate students. This $19,999 supplement brings the total funding for this project to $30,889.
The award will run from March 16, 2015 through September 30, 2016.
Abstract
– NC State graduate student will develop a machine learning approach to linking extreme atmospheric ridging events with extreme surface temperatures, employing a Gaussian Process (GP)-based predictive analysis tool that leverages the predictive value of spatial and temporal correlations and builds on ORNL's past success in spatial classification, temporal change prediction, and parallelizing GP for large spatiotemporal extents.
For more information on Dr. Vatsavai, click here.
Return To News Homepage