CSC News
June 28, 2016
Christo Earns Prestigious WeTech Scholarship and Internship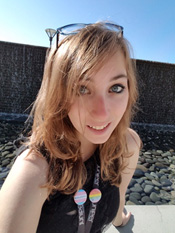 Dana Christo
, an undergraduate in the NC State Computer Science Department, was recently named one of four college students nationwide to receive the Women Enhancing Technology (
WeTech
) Scholarship and Internship for University Women in Science, Technology, Engineering and Math (STEM).
Each recipient of the award will receive a $10,000 scholarship for the 2016/2017 school year, as well as the opportunity to participate in a paid 12-week internship at
Juniper Networks
, in the company's global headquarters in Sunnyvale, CA.
Managed by the Institute of International Education (IIE), the WeTech initiative invests in young women in the United States and India by offering scholarship funding for study in the STEM fields as well as paid internship opportunities with Juniper Networks. The program, now in its second year, is offering four scholarships and internships to university women studying STEM in the US, and eight scholarships and internships to women in India. This is double the number of scholarships last year. The application for the India program will open next month, and IIE and Juniper Networks will award eight additional scholarships and internships for young women from India.
Christo joins three other US winners who were chosen by the global Juniper Networks selection committee: Kelcy Newton, a computer science major from Georgia Tech, Liubov Nikolenko, a computer science major from Georgia Tech, and Yoo Jeong Shim, an engineering major from Harvey Mudd College.
Save
Return To News Homepage