CSC News
June 13, 2016
Thirty-one College Faculty Members Receive Mentor Recognition at Spring Faculty Meeting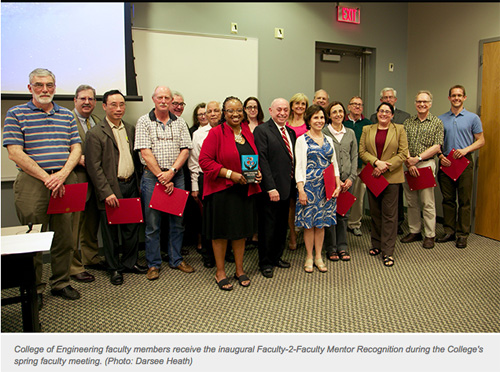 During the 2016 spring faculty meeting, the College of Engineering and Office of Faculty Advancement at North Carolina State University celebrated the critical role that many of the College's professors play in the development of junior faculty members.
"The mentorship of our early career faculty is an important component of what we do in the College of Engineering as they navigate their professional environment and career path," said Dr. Christine Grant, associate dean of faculty advancement in the College.
During the month of January, which is recognized as National Mentoring Month, the College of Engineering Faculty Advancement unit invited junior faculty members, including assistant and assistant teaching professors, to nominate a professor who devoted their time and effort in providing mentoring and support through the navigation of professional development and career paths. From that list, 31 faculty members were selected.
Each recognition recipient cited received a certificate from the dean and associate dean of the College and a signed copy of the book "Success Strategies From Women in STEM," written and edited by Peggy A. Pritchard and Grant.
The following faculty members were recipients of the inaugural Faculty-2-Faculty Mentor Recognition:
Brian Hughes, Department of Electrical and Computer Engineering

Eddie Grant, Department of Electrical and Computer Engineering

Xiangwu Zhang, Department of Textile Engineering, Chemistry and Science

Melissa Pasquinelli, Department of Textile Engineering, Chemistry and Science

Leda Lunardi, Department of Electrical and Computer Engineering

Mesut Baran, Department of Electrical and Computer Engineering

Stephen Roberts, Edward P. Fitts Department of Industrial and Systems Engineering

Laurie Williams

, Department of Computer Science

Margery Overton, Provost's Office

Paul Turinsky, Department of Nuclear Engineering

Michael Doster, Department of Nuclear Engineering

Harry Perros

, Department of Computer Science

Richard Spontak, Department of Chemical and Biomolecular Engineering/Department of Materials Science and Engineering

Russell Gorga, Department of Textile Engineering, Chemistry and Science

Scott Ferguson, Department of Electrical and Computer Engineering

Paul Cohen, Edward P. Fitts Department of Industrial and Systems Engineering

Yan Solihin, Department of Electrical and Computer Engineering

Rajinder Khosla, Department of Electrical and Computer Engineering

Robert Kelly, Department of Chemical and Biomolecular Engineering

Richard Felder, Department of Chemical and Biomolecular Engineering, Emeritus

Carol Hall, Department of Chemical and Biomolecular Engineering

Nam Dinh, Department of Nuclear Engineering

Fran Ligler, UNC/NC State Joint Department of Biomedical Engineering

Gregory Sawicki, UNC/NC State Joint Department of Biomedical Engineering

Douglas Reeves

, College of Engineering, associate dean; Department of Computer Science

Christine Grant, College of Engineering, associate dean; Department of Chemical and Biomolecular Engineering

Sarah Heckman

, Department of Computer Science

Matthias Stallman

, Department of Computer Science

Carla Savage

, Department of Computer Science

John Classen, Department of Biological and Agricultural Engineering

Jon Rust, Department of Textile Engineering, Chemistry and Science
Return To News Homepage