CSC News
June 09, 2016
NSF Supports Shahzad's Research on Gesture Recognition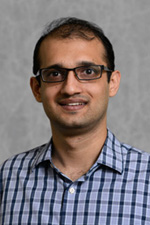 Dr. Muhammad Shahzad
, assistant professor of computer science at NC State University, has been awarded $174,878 by the National Science Foundation (NSF) to support his research proposal entitled "Pervasive Gesture Recognition Using Ambient Light."
The award will run from May 1, 2016 through April 30, 2018.
Abstract
– The PI proposes to use ambient light for recognizing human gestures. The intuition behind the proposed approach is that as a user performs a gesture in a room that is lit with light, the amount of light that he/she reflects and blocks changes, resulting in a change in the intensity of light in all parts of the room. This change can be measured and the pattern of change in the intensity of light is different for different gestures. Leveraging this observation, the proposed approach first learns these patterns for different gestures and then recognizes the gestures in real-time.
For more information on Dr. Shahzad, click here.
Return To News Homepage