CSC News
June 10, 2016
Rahman Wins First Microsoft Open Source Challenge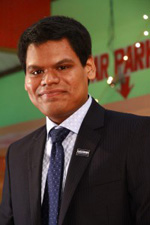 Congratulations to the NC State Computer Science PhD student Akond Rahman on winning the Grand Prize in the first Microsoft Open Source Challenge. He won the $5,000 grand prize with his entry: "Quantifying Semantic Similarity of Software Projects Using Deep Semantic Similarity Model (DSSM)."
Microsoft Research has over fifty projects that span the range of computer science from artificial intelligence to visualization, from cryptography to programming models. In these projects, the researchers have created open source tools and made them available to all. The objective of the Challenge is to make the tools widely known and available and to elicit exceptional ideas from bright students around the world.
Entries were judged by a panel of experts at Microsoft Research based on the following criteria: 30% - originality of the idea; 40% depth of use of the chosen tool; and 30% - readability of the report. For more information about the Challenge, please click here.

Rahman is advised by Dr. Laurie Williams.
Return To News Homepage