CSC News
June 06, 2016
Catete Named Outstanding Student Volunteer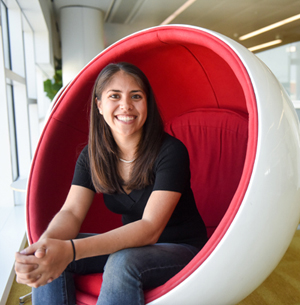 Several student leaders and organizations were recognized for their passion and service to NC State during the Leadership, Engagement and Development (L.E.A.D.) Award Ceremony held in April. Veronica Catete, a PhD student in the NC State Computer Science Department, was awarded the Deborah S. Moore Service Award as Outstanding Student Volunteer for her exemplary service to the department, and to the university.
The Deborah S. Moore Service Awards recognize exemplary service by NC State students and organizations. Deborah S. Moore, a graduate of NC State, served as the first Volunteer Coordinator of the NC State Student Center. Four awards are presented in the following categories (this year's winners in parenthesis): Outstanding Student Volunteer (Veronica Catete), Outstanding Student Organization (Kappa Omicron Chapter of Alpha Kappa Alpha Sorority, Inc.), Outstanding Service Program (Wolfpack Pick Up), and Outstanding Philanthropy Program (Dance Marathon).
Catete is involved in the Students & Technology in Academia, Research and Service (STARS) Student Leadership Corps, Women in Computer Science (WiCS), the University Graduate Student Association, the Student Centers Board of Directors, and Students in Programming, Robotics and Computer Science (SPARCS). She is a National Science Foundation Graduate Research Fellow, and a Microsoft Research Graduate Women's Scholar.
Catete is also active outside of the University community. This summer she is partnering with Mothering Across Continents serving as a content specialist and university mentor for 150+ students at an all-girls school in Rwanda through a project called Pivot Academy. She will be working with high school teachers to incorporate information and communications technology (ICT) into their classrooms, and also leading a math, computing and entrepreneurship workshop for students. She'll be teaching students mobile app development to help solve problems in their local communities. For more information, please click here.
Return To News Homepage