CSC News
May 17, 2016
Gardner Nominee for CoE Award for Excellence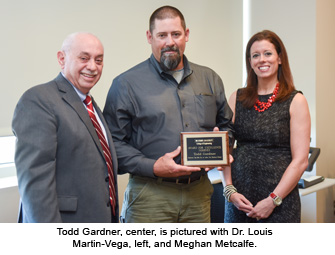 Todd Gardner
, director of operations in the NC State Computer Science Department, was recently recognized as the Department's nominee for the College of Engineering 2016 Awards for Excellence.
Per Gardner's nomination, "Todd is our "go-to" guy for most things, including things that are definitely not on his job description – from moving tables, to helping set up for special events,
to helping coordinate Open House, to recording our Fidelity Investments Lecture Series (and the list goes on!). He has an excellent rapport with both the faculty/staff and the students. He is always quick to help, and does so with a cheerful attitude, no matter what is asked of him (see list above). He goes above and beyond the call of duty to help me and anyone else in the department who needs assistance. He is an asset to the Computer Science Department and the College of Engineering…
This year's College of Engineering Award for Excellence winners were Hamid Akbari, of Industry Expansion Solutions, John "Steve" Cameron, of the Department of Mechanical and Aerospace Engineering, and Ginger McGlamery, of the Department of Civil, Construction and Environmental Engineering.
The awards were announced at a ceremony held April 18. Dr. Louis Martin-Vega, dean of the College of Engineering, presented the winners with plaques and $250 gift checks. The winners also received eight hours of paid time off and are now nominees for the NC State University Award for Excellence.
For more information on the College of Engineering Awards for Excellence, click here.
Return To News Homepage