CSC News
August 26, 2004
Computer science organizations plan 'start of year' kick-off
Officers of the computer science department's student organizations have planned a kick-off 'get acquainted' event that is open to all computer science students. It will be held Thursday, Sept. 9, 7:30 p.m. to 10 p.m. in Withers Hall.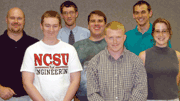 "We want to give computer science students a chance to get to know each other outside of class and to see what our different student organizations have to offer," says Sarah Smith, president of the Women in Computer Science organization. The department has nearly 10 student organizations. Organization officers who attended the meeting are, from the left in the photo, front row: Travis Cornwell, Sammy Carter, and Sarah Smith; back row: Rich Killian, Alex Balik, Andy Barnes, and Chris Belcher.
Smith and Travis Cornwell, vice president of ACM/AITP – the student chapters of the Association of Computing Machinery/ Association of Information Technology Professionals – have taken the lead in organizing this new event, working in collaboration with other student organization leaders.
The organizations provide opportunities for students to learn from guest speakers as well as from each other, through informal seminars and discussions.
WICS, for example, holds lunches on a weekly or biweekly basis, giving members a chance to talk about courses, women in computer science-specific issues, and other concerns. ACM/AITP hosts technology speakers at most of their meetings, while the Microsoft.NET User Group and PACMug offer training and discussions of various software applications and techniques. Check the computer science department's online calendar for dates and details.
Members also participate in community service projects and organize social events. Last winter, WICS and ACM/AITP held a joint event that featured a selection of computer games and refreshments. WICS and the Computer Science Graduate Student Organization participated in Service Raleigh, and ACM/AITP refurbished 25 computers and installed them in a new lab at the Henderson Middle School. They plan to do a similar project this year.
Look for more stories about the student organizations' activities at the Computer Science news site throughout the year.
- rzewnicki -
Return To News Homepage