CSC News
May 17, 2016
For the First Time, CSC Department Honors Graduates During Two Diploma Ceremonies
Nearly 260 undergraduates and graduates celebrated their graduation during the Computer Science Department's Spring Diploma Ceremonies held Friday, May 6 at Providence Baptist Church in Raleigh. Because of the large number of graduating students, the department held two diploma ceremonies – one for graduate students (Masters and PhD) at 10:00 a.m., and one for undergraduates at 2:00 p.m. This arrangement allowed for comfortable accommodations for the more than 1,500 relatives, friends, and guests who were on hand to celebrate with the graduates. Hundreds more from around the globe joined via online live streaming.
This spring's graduating class included 9 Ph.D., 136 M.S., and 114 B.S. degrees expanding the department's alumni base to well over 7,600. The top employers for this semester's graduates included Amazon, VMware, Microsoft, SAS, IBM, Cisco, NetApp, LexisNexis and Fidelity Investments.
The undergraduate class included seven Valedictorians (perfect 4.0 GPA): Micah A. Alexander, Clayton Griffin Hobbs, Monis Mahood Khan, Sean Michael Kramer, James Clifford Parks, Daniel William Rice, and Benjamin Patrick Tamer; two Computer Science Honors Program participants: Yang Ho and Weijia Li; two University Honors Program participants: Andrew James Kofink and Brien D. Croft; one University Scholars Program participant: Chi-Han Wang; and numerous members of a variety of scholastic honor societies.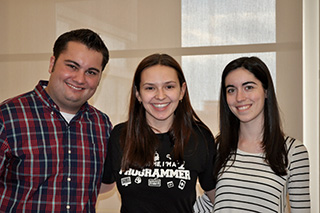 This year's Computer Science Outstanding Senior Award recipients are (pictured at right): Eric C. Bolender, Computer Science Senior Award for Humanities; Laurel Ann Timko, Computer Science Senior Award for Leadership; and Lauren Ashley Koepnick, Computer Science Senior Award to Scholarly Achievement.
Dr. Mladen Vouk
, Head of the Computer Science Department, congratulated the graduates on their accomplishments.
We were honored to have Terri Lomax,
Executive Vice President, Discovery-Science-Technology, at RTI International, serve as our keynote speaker. Lomax is the executive vice president of Discovery-Science-Technology (DST), leading a group of more than 350 staff members in the Discovery Sciences, Forensic Sciences, Electronics and Applied Physics, Technology for Industry and the Environment, and Energy Technology organizations within DST. She previously served as vice chancellor for Research, Innovation & Economic Development at NC State University, overseeing research policy, private and governmental partnerships, and planning and administration for research, innovation and economic development efforts. She also served as a professor of plant biology at NC State.
DVDs of the ceremony are available for a nominal $25 processing fee (click here for order form). Additionally, a professional photographer took photos of each graduate as he/she received his/her diploma. For more information, please contact the photographer.
Our special thanks go to the Computer Science Department ePartners Program, its participating corporate sponsors, and the NC State Engineering Foundation for their generous sponsorship of this event.
Return To News Homepage