CSC News
April 11, 2016
Join us for the Senior Design Center's "Posters & Pies" on April 26th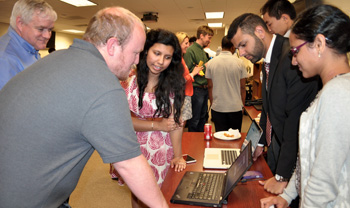 Please join us for the NC State Department of Computer Science Senior Design Center "Posters & Pies" event on Tuesday, April 26, from 10:30 a.m.-1:00 p.m.
Each student team will give a brief presentation of their Senior Design project in the James B. Hunt Jr. Library Auditorium on NC State's award-winning Centennial Campus. After the presentations, pizza and dessert pies will be served, and you can enjoy project demonstrations and poster displays in the Hunt Library Duke Energy Hall.
The event is sponsored by Allied Telesis, EMC, Merck, and NetApp, as well as the Computer Science ePartners Program and the NC State Engineering Foundation.
This semester, the sponsors and projects are as follows:
Entrepreneurs

: Ariadne's Thread

Blue Cross Blue Shield of NC 1

: Re-envisioning Healthcare: The Common Healthcare Platform

Deutsche Bank Global Technology

: Sentimenty

Fujitsu America

: Sequencer

IBM

: Enterprise Exception Handling Pattern

Ipreo 1

: WRAP – Writing Reusable Automated Plans

Ipreo 2

: IPO-Go!

Schwab Performance Technologies

: Roadmapper – An Intuitive SCRUM Management Tool

Undergraduate Research 1 (Sullivan)

: Visualizing Complex Pipelines

Allied Telesis

: Interactive Network Status Map

Bandwidth

: Bandwidth Anomaly Monitor

Infusion 1

: Be Your Favorite Player

Interactive Intelligence

: AWSvis

Merck

: RxChain

Undergraduate Research 2 (Young)

: The FireBlock System

Boeing

: Configurable Security Analysis Tool

Bronto

: ElasticQueue – Saving Data

Cisco

: Deployments of an IoT Sensor Network

LexisNexis

: Affinity

SAS

: Dynamic Dashboard

WebAssign

: Toolshed

Blue Cross Blue Shield of NC 2

: Aardvark Data Visualization

EMC

: NCS Intercept – Stream Management & Allocation in Backup Applications

Fidelity 1

: Heads Up Transaction Monitor – Laundromats to Legacy Systems

Fidelity 2

: "Hey Veronica…"

Infusion 2

: Love Lock Bridge

Laboratory for Analytic Sciences

: Multiple Hypothesis Tracking & Looking After Your Ant Farm

NetApp

: QualiQueue

Undergraduate Research 3 (Mueller)

: Hivemind
Please come join us!
The media is welcome to this event.
Senior Design Center contacts:
Media & Corporate Partnership contact:
Return To News Homepage