CSC News
April 18, 2016
NC State Game Development Showcase Planned for April 22nd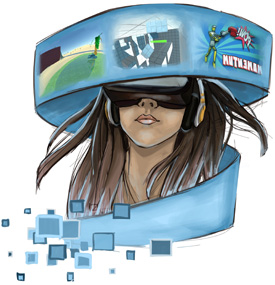 You are cordially invited to attend NC State's 2016 Game Development Showcase to be held Friday, April 22 at 6:00 p.m. in Engineering Building 2 (EB2) on NC State's Centennial Campus. The annual event, now in its twelfth year, is free and open to the public.
The CSC 482 Advanced Game Projects course expands on the principles learned about Game Engines in CSC 481. It is an exploration of technologies and techniques necessary for developing a stand-alone computer game. The students tackle game production and its issues via a team-based project.
This year, three teams built games with two requirements: the games, built over the course of the 16-week spring semester, must use the Oculus Rift virtual reality system, and they must be multiplayer. Learn more about the games below:
Cube Route – Cookie Dough Games
This is just your basic block-sliding, escape-the-room puzzle game. Oh, except the only way to move the blocks around is to shift gravity itself, sending you tumbling as the room tilts around you. Work with your partner and everything might just fall into place. Try to keep track of where the exit is, and hold onto your lunch!
Momentum – Hit n' Run Studio
Take to the arena in 2-v-2 action in this comic-book-style, fast-paced shooter. Use physics-based guns to push or pull your enemies into pits to win. Grapple your way around the arena with these weapons to avoid getting hit and to help your teammate. The Momentum never stops!
OVRdrive – Vagabond Studio
Race. Shoot. Win. OVRdrive puts you in the seat of a light-armor hovercraft where you will compete with friends to finish first. Your vehicle is equipped with a turret to blast your opponents. A variety of power-ups add interesting twists. There are a variety of tracks, each with its own unique theme. Come try it out to find out more!
Important Showcase Details
:
Time: 6:00 p.m. for brief presentation, demos and a reception with light refreshments to
follow
Location: Engineering Building 2; Room 3211 for presentations, Rooms 3001 and 3002 for demonstrations.
The teams of students will give presentations describing the design and development of their games, from the initial concept phase, through the definition of technical and artistic milestones, to the effort involved to create the finished product. After their presentations, students will host audience members at a reception where the games will be available for play, and the students will answer questions about their work. Faculty will also be available at the reception to answer questions from students and parents interested in NC State's courses and programs focusing on game creation.
XLOC, Inc.
provides a proprietary suite of agile, web-based localization applications and tools that manage the asset integration and build process across all games, regardless of development structure, format or platform. By automating the processes, XLOC saves time, reduces development risks, and lowers maintenance and translation costs. Localization and Studio Producers get detailed insight and control over all facets of the process, enabling them to focus on the higher details of managing the localization effort. Additionally, XLOC
'
s custom integration and translation packages provide QA and developers with ongoing parallel-localized game files so there should be no surprises when trying to create foreign SKUs. XLOC has been used to build such titles as Bioshock 2, Bioshock Infinite, Borderlands, Doom 3 and Quake 4.
Facebook
- Founded in 2004, Facebook's mission is to give people the power to share and make the world more open and connected. People use Facebook to stay connected with friends and family, to discover what's going on in the world, and to share and express what matters to them. For more information, go to research.faceboook.com.
The ePartners Program provides the framework for the global business community and the NC State Computer Science Department to develop and nurture strong collaborative relationships as they work toward goals of mutual interest. Its primary focus is to foster ongoing communication and interaction between students, faculty and our corporate partners to help shape the department's future. For more information, click here.
The NC State Engineering Foundation Inc. was chartered in 1944 to secure private financial support critical to the improvement of the College. The Foundation continues to raise funds and engage with alumni to support the important work of the people who define the College. For more information, click here.
Contact David L. Roberts, assistant professor of Computer Science, at
robertsd@csc.ncsu.edu
or telephone number 919-513-7182.
Return To News Homepage