CSC News
March 09, 2016
Vatsavai Receives ORNL Award to Study Urban Sprawl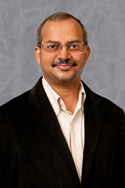 Dr. Ranga Vatsavai
, associate professor of computer science at NC State University, was recently awarded $34,000 by Oak Ridge National Laboratories (ORNL) to support his research proposal entitled "Change Analytics for Biomass Monitoring and Urban Sprawl Detection."
The award ran from August 31, 2015 to September 30, 2015.
Abstract
– The research involves: (1) developing upsupervised machine learning approaches for biomass monitoring via MODIS time series, (2) providing expert services on parallelize Gaussian Process (GP) learning on GPUs, and (3) implement a multi-resolution object-based change analysis framework for detecting urban sprawl using very high resolution satellite imagery.
For more information on Dr. Vatsavai, click here.
Return To News Homepage