CSC News
March 02, 2016
Brittany Johnson is Empowering Young Females to Pursue Computer Science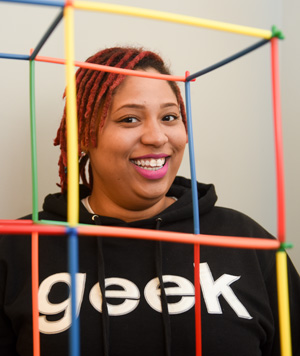 Brittany Johnson
has a passion. As a NSF Graduate Research Fellow and PhD student in NC State's Computer Science Department, she pursues research on improving developer productivity. But while she strives to improve workplace efficiency, she works just as passionately on recruiting young women and diverse student populations into the field of computer science. Because to her, therein lies an untapped market.
"Women and diverse populations are desperately under explored in the field of computer science," she said. "I'm so curious about what keeps them from exploring the field and how to reach them so they won't dismiss it without knowing all about the program."
It could be a lot of things she speculates.
"Maybe they think it is a lot of math, maybe they feel out of place as the minority, maybe they just don't feel the love from their professors and fellow students," she said. "But it could be much more minor than that, like they really can't imagine doing anything else in computer science other than coding and sitting at a desk all day."
She is quick to dispel that notion herself.
"I'm very social and I don't want to be a desk all day either," she said. "The stereotypical image of a white male who is one dimensional is not what computer science is about. It is about creative problem-solving."
Her first exposure to the field is a perfect example, as she was a high school student editing My Space pages when her creativity and skill set were noticed by her teacher.
"I had a female teacher that noticed that I had a knack for it," she remembered. "I took a programming class in high school and it was sort of my 'aha' moment regarding considering the field as a career path."
When putting together the puzzle of why women and minorities seem to miss out on computer science careers, Brittany does identify one specific missing piece.
"I think a lot of what is missing in recruiting for computer science is in academia," she said. "I think that basic education about the field is missing in the classroom, particularly in the younger grades and that is what I am working to improve upon."
To broaden the message to the groups she hopes to reach, she is an active advocate in many forums. She volunteers with Hi-Tech Teens, an afterschool program available at the Wade Edwards Learning Lab in downtown Raleigh, where students learn about coding and participate in interactive projects. She also leads engineering camps for middle school girls and serves as judge for the Louis Stokes Alliance for Minority Participation program. In the university setting, she participates in the NC State STARS (Students & Technology in Academia, Research and Service) Student Leadership Corps, an organization that promotes computer science careers by participating in service and outreach programs.
For all that she does to provide outreach, Brittany Johnson holds firm to her ideals of providing more opportunities for students to connect with the computer science field in the classroom. Her plans are to stay in academia and become the same type of catalyst as the educators who helped her along the way.
"I plan to follow my passion for research, spreading knowledge and inspiring others like me to pursue a degree and career in technology," she said.
And with her infectious enthusiasm for her field, she most certainly will.
Return To News Homepage