CSC News
February 08, 2016
New CSC Corporate & Career Services Suite Opens in EB2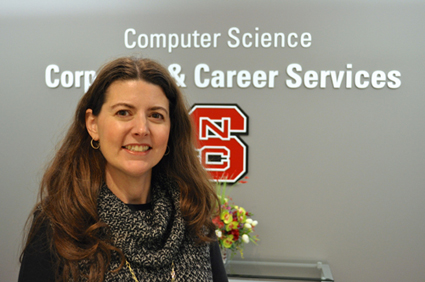 The NC State Department of Computer Science proudly announces the appointment of Leslie Rand-Pickett as Director of Graduate Career Services, along with the launch of the new Computer Science Corporate & Career Services Suite located at suite 1222 in Engineering Building 2 (EB2).
In this newly created role, Ms. Rand-Pickett will liaison with industry partners as an advocate for the department to encourage and identify premiere internship and career opportunities for our grad students. She will also serve as the primary mentor for professional skills development for our grad students, helping students create professional development plans, while providing resources across a variety of media and touch points to enable students to achieve their goals.
The new Director of Graduate Career Services position and the career services suite are an integral part of our continuing efforts to enhance our students' experience in and out of the classroom. Dr. George Rouskas, Professor & Director of Graduate Programs says, "We are very happy to provide this type of value-add service to our 700+ graduate students. While our students are already highly sought after, we believe this focused support will provide our students with an even stronger foundation for professional success." Rouskas adds, "Leslie will also be working closely with our PhD students to help them formulate career plans, whether that be a corporate or academic interest."
Ken Tate
, Director of Engagement & External Relations, adds that the new Career Services Suite will be a tremendous addition to the department's robust industry partnership toolkit. "This provides us an opportunity to complement and enhance the services provided by the University Career Development Center, giving access to partners through dedicated interview rooms on Centennial Campus, near our students." Tate adds, "This will position us to pursue deeper and more meaningful partnerships with companies looking for the very best computer science talent."
Ms. Rand-Pickett is not new to NC State, having worked for the last 11 years in the Career Development Center in both employer relations and career advising capacities. In her most recent role, she consulted with employers to develop strategies for recruiting NC State students for internship, co-op and full time positions across the university, and managed the ePACK jobs and internships database. Her career advising experience includes six years as a liaison to Engineering students at NC State, and six years working with Nursing and Social Science students at UNC Wilmington.
An eastern North Carolina native and a 3rd generation NC State alum, Rand-Pickett has a M.Ed. degree in Counselor Education, along with degrees from Peace College and UNC Chapel Hill. Her professional and community affiliations include the NC Association of Colleges and Employers (Technology Co-chair, Past President), the Junior League of Raleigh, and the Brooks Elementary PTA (VP of Communications). She resides in Raleigh with her husband Nathan, and sons Carter (7) and Walker (3).
The new 700 sf Corporate & Career Services suite is located on the first floor of Engineering Building 2 (EB2) in the CSC wing. In addition to office space, it contains two high-tech interview rooms with HD monitors and connections to support video capabilities for remote interviews. ePartners with the department will have priority access to the space.
Return To News Homepage