CSC News
February 01, 2016
Congratulations to Todd Gardner on Receiving a "Pride of the Wolfpack" Award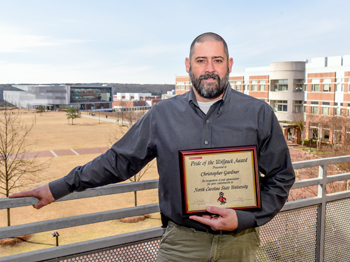 Todd Gardner
, Director of Operations in the NC State Computer Science Department, has been selected as a recipient of a "Pride of the Wolfpack" Award.
The awards are designed to recognize NC State employees for a special or unique contribution to their college/unit or the University. Criteria for the award include: leadership on the job, customer focus, and quality of service.
Gardner
was recognized for being the Computer Science Department's "go-to guy" for most things, including things that are definitely not in his job description. Per his nominations: "He has an excellent rapport with both the faculty/staff and the students. He is always quick to help, and does so with a cheerful attitude, no matter what is asked of him. He goes above and beyond the call of duty to help me and anyone else in the department who needs assistance." Another nomination said, "…With all the relocation of our faculty, the remodeling of our facilities and other special projects he handles, he makes sure all the minor details are covered… I don't know what we would do without him!"
Join us in congratulating Gardner, and please pass along your thanks for all of his hard work and dedication to the Computer Science Department, the College of Engineering and the University.
Return To News Homepage