CSC News
January 28, 2016
Vouk Tapped to Lead Research Development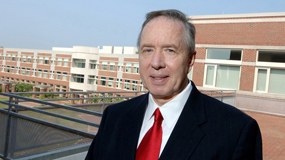 Mladen Vouk
takes on new responsibilities in the Office of Research, Innovation and Economic Development, tackling another challenging role in a noteworthy career. The department head and distinguished professor of computer science, who also directs the Data Science Initiative, just wrapped up nine months as the university's interim research chief.
Now, he's been tapped to ensure the strategic and sustainable growth of research at NC State as associate vice chancellor for research development. Vice Chancellor Alan Rebar announced Vouk's appointment on Jan. 21.
Vouk is co-inventor of NC State's Virtual Computing Laboratory, one of the world's first cloud computing systems, and co-founder of NC State's Computer Science Software Systems and Engineering Laboratory. He formerly served as technical director of the Center for Advanced Computing and Communication and was associate vice provost for information technology from 2002 to 2012.
He has received numerous awards for this groundbreaking research in software engineering, scientific computing and analytics, information technology and education, and high-performance computing. Vouk is an IEEE Fellow and a recipient of the IEEE Distinguished Service and Gold Core Awards.
Vouk earned a Ph.D. in solid state physics at King's College London and a master's degree in computer science at NC State.
-###-
Return To News Homepage