CSC News
January 13, 2016
Vidya Srinivasan – Designing Her Own Destiny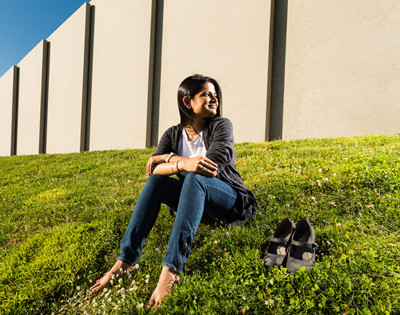 In 2010, Vidya Srinivasan canceled Christmas. A computer science graduate student at North Carolina State University by way of Chennai, India, she had scored an unexpected internship interview with Microsoft in Seattle.
"I canceled my vacation," she said. "I reached out to all the Microsoft connections I could possibly find. I spent my Christmas with books, because I really wanted to nail that interview."
And she did. Three years into her career in tech, Vidya is now a program manager for OneDrive-SharePoint, still on the same team she interned with in 2011.
Vidya, who could outtalk a roomful of teenage girls on Red Bull, is petite and bubbly. She is also the type of person who works insanely hard for extreme goals, and doesn't necessarily see rescheduling the occasional holiday as a sacrifice. Originally from Hyderabad, India — Microsoft CEO Satya Nadella's hometown — Vidya is an only child born to banker parents who raised her to be highly independent. By age 3, she was training to be a classical singer, a career path she kept open in case computer science didn't work out. Throughout college, Vidya performed on four Indian television shows, appearing alongside some of the country's musical superstars. Last year, when her Microsoft Hackathon team, Ability Eye Gaze, appeared to be reaching the finals, she realized her planned trip to Alaska might interfere with presenting the project to Nadella if they won. So she canceled the trip. (And good thing, because they won.)
That's not to say she's never had a crisis of confidence. As a new arrival to NCSU, she almost turned around and went home. "I called my mom, and I'm like, 'Mom, I think I've made a mistake,'" she said. Her fellow graduate students had several years of work experience, had already met with professors, and knew what they wanted to achieve with their degrees.

"They were asking, 'Do you know this, do you know that?'" she recalled. "I said, 'No.' 'Do you have experience?' 'No. I graduated three months ago.' People said, 'If you don't have these skills, you'll never get a job.'" The cultural shift scared her, too. "When I was an undergraduate, the coursework is prescribed. In grad school, you design your own destiny."
By the time the first career fair came around in October, Vidya knew she needed to land an internship to get ahead. "I couldn't sleep the night before," she said.
She approached a few companies and received some polite rejections. "Then I spoke to a Microsoft rep, and decided that I would tell them whatever was on my mind," she said. "The one thing I'm good at is talking."
She rattled on about all about her projects and interests and the work she was doing on campus with the Indian community. "To my surprise, I got an invitation to come interview at Microsoft for an internship within the first three months of starting graduate school," she said. "I was like, this is so unexpected."
The day before the interview, she called her mother. "I told her, 'I don't want to go, because I don't want to embarrass myself,'" Vidya said. "And she said, 'That's OK, it's not always about the end result. It's about the experience.' That was a powerful chord that struck me. It's OK if I fail miserably. I'm going to learn something."
In a Burger King, she got the news she'd been awarded the internship. "That's when I gained so much confidence," she said. "If I can do this, I can do anything."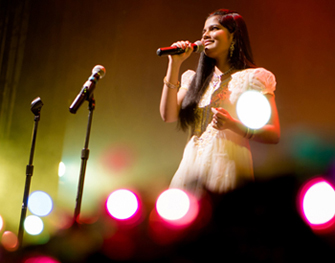 Vidya recalls a formative English assignment from elementary school: to find a word that starts with the same letter as her first name. "That's when I learned the word 'versatile,'" she said. "I'm versatile Vidya!"
As a technical program manager at OneDrive-SharePoint, one of Microsoft's cloud-based business solutions, Vidya translates what she calls "random ideas" into action, and she's happiest designing user experiences while listening to her favorite music. As an intern, Vidya created an asset library for SharePoint, a solution she felt was calling out to be developed. She's still essentially doing the same thing now: visualizing abstract concepts, identifying gaps, assessing problems, and building solutions for the market. And while she considers herself an engineer, she's most interested in the human experience and the thrill of creating a product that will positively affect millions of customers.
What Vidya does outside her job is as important to her as the day-to-day user experience work she loves. This includes singing with local Indian bands, volunteering for Asha for Education (an organization that brings education to underprivileged children in India), speaking to high school students through Skype in the Classroom to inspire computer science careers, and participating in hackathons on tech solutions for good. Oh, and she's a newlywed, too. "I really like being busy," she explained.
But she balks when people talk about her outside projects as extracurricular. "When I take a step back and look at it from 30,000 feet, they're all so tied together," she said. "For me, these aren't extracurricular activities; they are simply an extension of who I am. At a fundamental level, it gives me immense satisfaction and happiness to do something that can have a direct positive impact on another person — be it hacking for good, speaking to students, or singing."

To add another activity to the list, Vidya is co-chairing Open Source Day this year at the annual Grace Hopper Celebration of Women in Computing, leading a team of six people across the U.S. and Europe and working with eight open source organizations. She'll also speak at the conference about navigating up from rejection. Vidya didn't plan on going to her first Grace Hopper three years ago. Just a few weeks into her job, she found out a paper she'd worked on in graduate school had been accepted to a conference in Japan. But when the visa didn't work out, she asked her superiors if she could go to the Grace Hopper event instead.
"I fell in love with Grace Hopper," she said. "It's a great platform for building a network and growing confidence."
It was there that a VP of a prominent company offered to mentor her. "She's one of my sources of strength," Vidya said. The next year, she returned to speak about the fear of being singled out. Though she doesn't dwell on it, a flash of pain crosses her face when she mentions her experiences being bullied as a child. "At some level I wasn't fitting in with my peer group," she said. "We all talk about the fear of failing. But what about the fear of success?"
Vidya said she is informed by the longstanding problems faced by women in tech.
"I am very passionate about the issue of gender inequality. I want to see it gone," she said. "Personally, I feel that if there's enough education, then this can change. When you're in tech, you're at the forefront of a lot of things. You automatically know that you can conquer. You don't take no for an answer."
Naturally, when Vidya heard about a hackathon team working on a solution for ALS, she jumped in to help hack for good.
"She was tenacious, bubbly, 'I'm in,' 'I want to do it,' determined," remembered Director of Accessibility Jenny Lay-Flurrie, who helped lead the Ability Hack team. "I remember giggling when I saw her email. It was like, game on."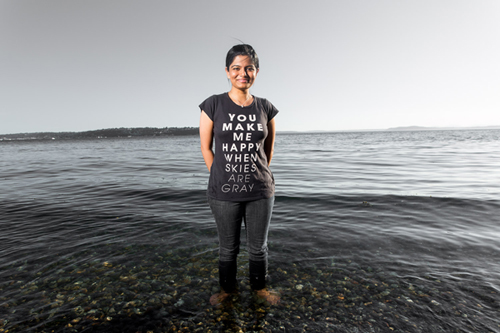 On the Ability Eye Gaze team, Vidya helped keep everyone moving forward, said Lay-Flurrie. "She's basically keeping us all in order," she added. After the project, which gave Steve Gleason, a former NFL player now battling ALS, a way to use his eyes to steer his wheelchair and better operate his Surface Pro tablet, won the global hackathon, the team presented to Nadella — and poured a bucket of ice water on him during the ALS Ice Bucket Challenge. "We were in a daze," said Lay-Flurrie. "She's the one going, 'What's next?'"
What was next: Vidya's involvement with the Ability Hack team over the following year, including three hackathons where the work received top honors ranging from awards like "most inspirational," "hacking for good," and having Satya Nadella stop by to hear the pitch.
"The first time I met with her, it was clear, she had a vision of how to drive a product toward success," said Microsoft researcher Jon Campbell, who worked with Vidya last summer and has called her up to work on subsequent hacks. "Vidya did an excellent job helping us hone in on that universal design vision."
"Vidya challenged us to stay focused on our end users, to balance radical change and incremental improvement," said Campbell. "She really pushed us, and in the end we had three great prototypes that our target customers love. She's very smart, driven, passionate, and she's able to translate that directly into the work that she produces."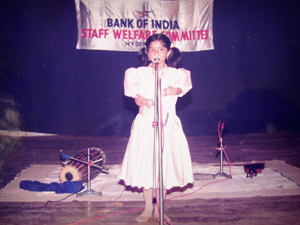 "Those experiences taught me a lot about empathizing with the customer," said Vidya of the hackathons. "That's when I became really passionate about universal design. It's designing for everyone. You should start thinking about the people with no arms when you start designing that laptop."
Vidya visualizes being a leader who makes a difference, and she looks to the people around her for inspiration.
"If I am able to reach one person directly, I will call it a success," said Vidya. "The world has a lot to offer, and it's not about how much you take and grow; it's about how much you give back. The tech world has given me so much. These things I do are giving back in a very small way."
Vidya opens the Wunderlist app on her phone, where she keeps two lists: her career plus-plus list, and her bucket list. Both have about a million items.
"My mom says, 'If you're doing something, be good at it,'" she said. "There's no limit on dreaming. There are a lot of things I still really want to do."
- Alhadeff -
Originally published in Microsoft Stories>
Story by Emily Alhadeff
Photos by Brian Smale | © Microsoft
Return To News Homepage